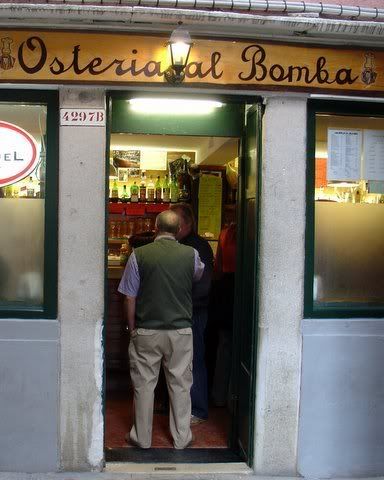 While on our honeymoon, my husband and I were wandering the Cannaregio neighborhood one evening and noticed people lining up in a very small doorway. Our curiosity got the better of us and we decided to go inside to see what was attracting so many people. It was a cichetti bar with a small osteria in the back room. At that time we were only vaguely familiar with the Venetian custom of having small plates of appetizers with an "ombra" (small glass) of wine. All the cichetti were lined up behind the bar like regiments of toy soldiers, one company of vegetables, the next of fish, the next of meats and so on. So we stayed and have gone back several times since. There is always a list of wines by the glass and I encourage everyone who drinks dessert wines to try the Fragolino, a wine made from grapes of the same name. It seems it is only available in Venice and Naples. It tastes like strawberries and one sip brings me back to the first time I entered Al Bomba. I never leave Venice without a bottle to bring home.
The bar itself is as long as the room, but people flow through quickly and many stay on for dinner in the dining room. On our first visit the bar was filled almost exclusively with locals and that was an important part of its charm for us. The owners spoke very little English, but were happy to try, so in my worst Berlitz Italian I pointed to a cichetto and said, "due, per favore". The owner placed the small meatballs on a plate and handed it to us. I asked what it was called and he responded "polpette". I asked if he knew the English word for it and he leaned close, as if divulging a state secret and said, "special meat". It wasn't until I got home and was reading one of my Italian cookbooks that I realized that polpette was the Italian word for meatballs. The business was sold to the chef by the original owners within the last two years. There are more tourists there now and fewer locals. The new owner's wife attends to the cichetti customers and speaks English. While we can still order polpette there, we will never again be served "special meat".
On my last trip to Venice I spent the day showing off my favorite places to my nephew, in hopes of encouraging him to go back on his own one day. We stopped by Al Bomba in the early afternoon for a glass of Fragolino and a zucchini fritter. We were going to Trattoria Ca D'Oro for lunch, so we limited ourselves to only one cichetto, a pity.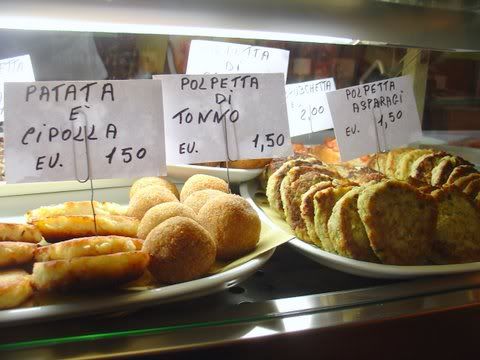 As you can see by the photo above, there were other temptations. Of all the cichetti I have tried over the years, I would recommend that anyone interested in them should try the mantecato, a cod (baccala), sometimes potato, and mayonnaise very fluffy spread that is placed on toast.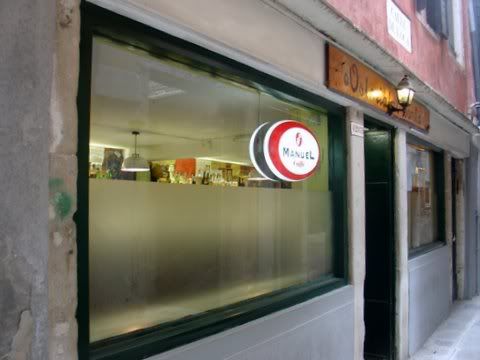 Walk up to Strada nova, turn left and look for Ca D'Oca on the far side of the street.