Having already been to Porter's in Covent Garden, we were on the hunt for an authentic English restaurant to try on this visit to London. As it turned out, my Knopf Map Guide to London listed one that sounded perfect, Maggie Jones. The setting looked old and cozy and on the day we went it was raining, so cozy was a plus. It seemed an authentic sort of place, not a theme restaurant as Porter's strikes me to be. The best thing was that the recipes were truly English, but also modern interpretations, so the food was much better and less bland than expected.
First and foremost the bread was a whole grain, very delicious, and cut very thick, a great compliment to the rustic menu. Unsalted butter was a good match, but the bread could have stood in its own. Bangers and Mash are so very British, but the modern twist was that they were wild boar sausages, very rich though not gamy and the traditional suet was still in the recipe. Admittedly, I love British bangers specifically because of the suet. The portion was also generous.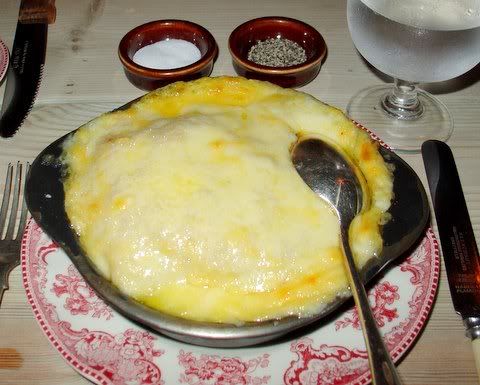 Gratins are not what one thinks of generally as British, but the cheese on this cauliflower version was very noticeably Cheddar, a classic English cheese. It had a nice edge to it, a real bite that did not diminish with heating. Often, I believe that cheese can be overdone on a dish such as this, but more would have been welcomed, even though it was already melting down the sides of the dish. Really, I couldn't get enough of it and since there was so much cauliflower, I wanted more. The cauliflower itself was very tender and flavorful so the two tastes together were enough to make meat entirely unnecessary for it to be satisfying. It could make a meal in itself.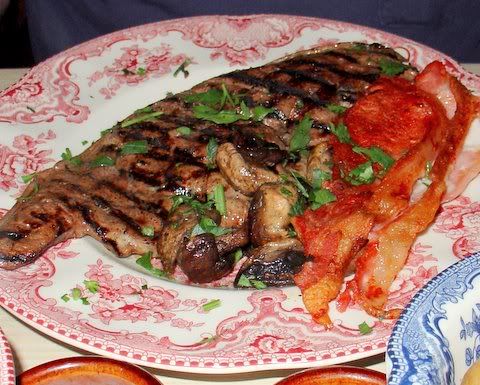 Since we don't often see liver and onions on menus at home, my husband was very happy to order the liver, but on this menu, it came with bacon. As his second favorite food group, bacon was a welcomed addition to the liver and he could do without the onions this time. Sides of boiled potatoes and peas with ham (or was that more bacon?) came with this dish, so there was plenty of food. As you can surmise from the size of the dinner plate, that was a large portion of liver. This restaurant was a very nice find with generous portions and decent prices. As soon as I find one, the menu will be linked.
6 Old CT Pl
London W8 4PL, United Kingdom
020 7937 6462
Subway stop: High Street Kensington