Hole in the wall, blue collar bar, roadhouse, all of these could well describe Duarte's. The restaurant that started out as a bar with a barrel of whisky in 1894 has become a landmark with a James Beard honorary award. Today it has a reputation for cream of artichoke soup and is one of the few places that still has abalone on the menu. To call Pescadero a backwater, would be gilding the lily, however it is worth a drive down the coast on a cold winter's day for the bread alone, served piping hot right out of the oven. Before I paint too romantic a picture, they don't make it at the restaurant.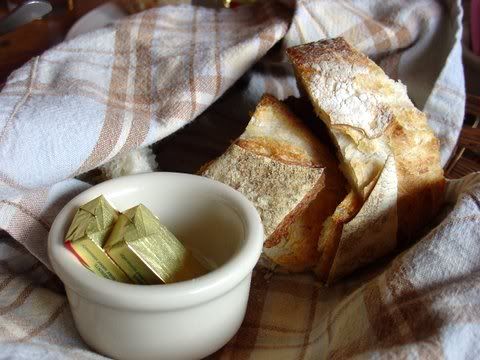 Bay Breads is the French owned, wholesale bakery that deserves credit for the taste of these loaves of outstanding bread. Duarte's receives credit for stocking it and heating it to its crusty, toasted completion, then serving it piping hot. Homemade bread couldn't be any better than this and if you care to, you can walk down to the town grocery store and buy a half baked loaf of this staff of life to bring home.
Onion rings haven't tasted this good since high school. Duarte's has them down pat with their crisp batter and sweet onion center, ready to dip into a small pool of catsup or to eat plain. Still the soup seems to be what draws me to this coastline institution. They make two of note, a green chile and cream of artichoke (they grow abundantly up and down the coast). Did it surprise and disappoint me that they are both made with cream of mushroom soup? Yes and no. It did surprise me, but the taste does not disappoint.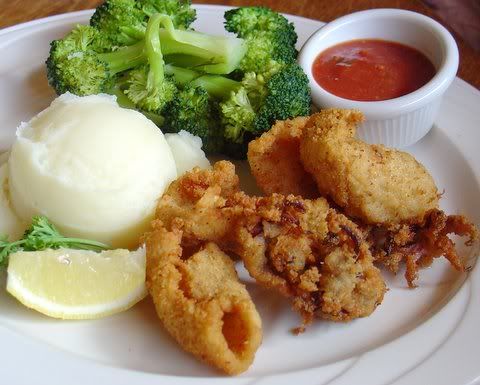 Being a seafood restaurant, it's nice to see a crab salad sandwich on the menu with a simple, not overly complicated recipe. Besides the crab there was mayonnaise and parsley; more would not be better in this case as it was just right. The fried calamari exemplified Duarte's ability to fry squid without making it rubbery and admittedly, it is nice to see large pieces on the plate, instead of previously frozen
calamari "rings"
that seem to dominate restaurant menus these days. "Give me spots on my apples, but leave me the birds and the bees, please.", while you're at it leave the tentacles on my calamari, they're the best part.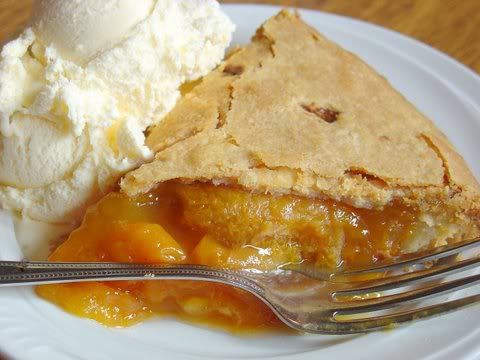 My Portuguese genes came on strong when I noticed a linguica sandwich, so I gave it a try. Good, but they could have just served the sausage and I would have been satisfied. If you haven't ever tried linguica, it's a spicy, garlic laden treat that could cure a cold! Pie, could one leave Duarte's without a homemade fruit pie? Yes, and I may in the future because the crust lacked flavor. It was flaky, but lacked that something intangible that makes a perfect crust.
On the other hand the ice cream with chocolate sauce is not worth the $6.50, at least the pie was home made.

On our last visit, we discovered that Duarte's had been honored with a special James Beard Award and had been serving Crab Cioppino for as long as it had been a restaurant, so we had to try it, being as it was crab season. The waiter/barman equipped us with cotton gingham bibs, seafood forks and nut crackers, so in we dove. By the way, the bar is our preferred room for dining.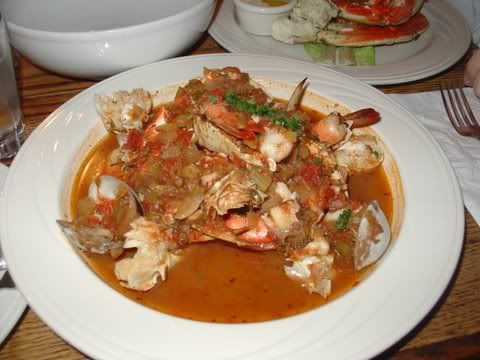 I've eaten enough bad cioppino at Fisherman's Wharf in SF to know a good one when I taste it and this was a good cioppino with a sauce as sweet as the crabmeat, not overbearing like many of the Wharf restaurants serve. The menu listed the ingredients as crab, clams and prawns. There were exactly two prawns and two clams in my dish, but I was not disappointed that the rest was all crab. The sauce will thin, but filled with nice chunks of diced onion, tomato and celery and the flavor was excellent. With that great bread to sop it up, the sauce managed to be the right thickness after all.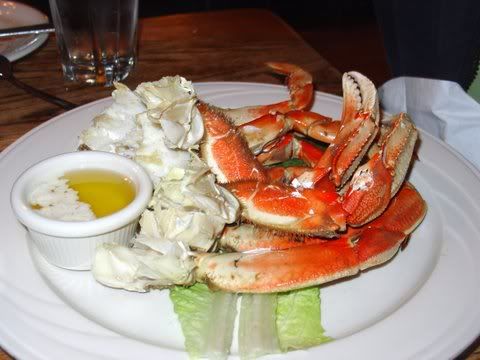 The prawns were actually bigger than I had expected and the clams tender. My dining companion decided on the cracked crab and it was also a great treat for the $25 price. I've eaten the abalone sandwich for the same price and believe that the cioppino was a much better value at $31. But, honestly, I'd be happy to order any of them again.
http://www.duartestavern.com/index.html
202 Stage Road
Pescadero, CA 94060
(650) 879-0464
Open Daily 7am-9pm