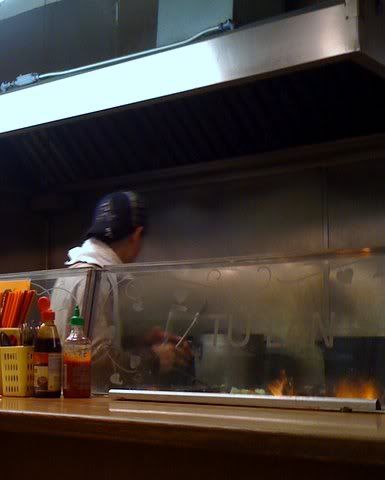 Everyone says it's a dive, a dump, resting on its laurels since Julia Child made a favorable comment about it 20 years ago. Whatever else you don't want to hear about a restaurant is what you hear about Tu Lan. But you also hear it has the best Vietnamese food in San Francisco, and Slanted door aside, I believe it; best of all it's cheaper than dirt. This is still my go to restaurant for Vietnamese food, I just have to avoid eye contact with other customers and keep my eyes off the floors. If I concentrate on the food, I'm in heaven, not skid row.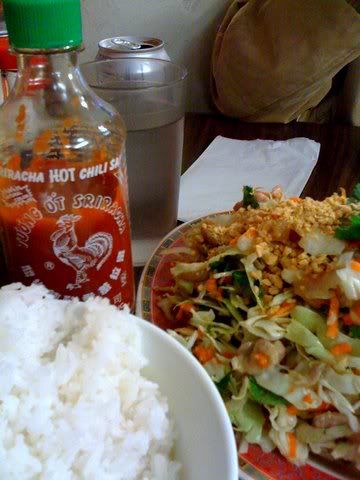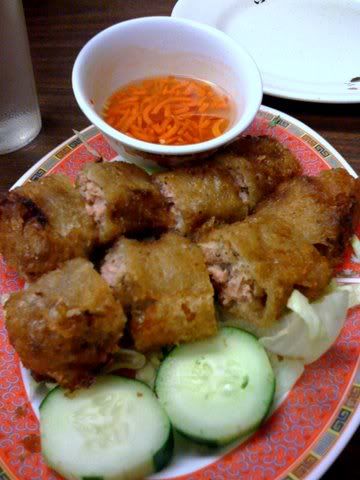 Siracha says Vietnamese food better than any other single ingredient and Rooster brand sits on every table. The food is so delicious, I usually avoid using it on my meal, since I don't want the heat to overpower the cacophony of other flavors, but I do anoint the steamed rice with it, and then drizzle the rice with any leftover sauces that might remain on the table. Imperial rolls are
practically a food group for me, along with egg rolls, lumpia, and taquitos, but I digress. The black peppered, spicy pork filling is deep fried in a rice wrapper and then baptized with a rice vinegar, sugar, chili dipping sauce. I cannot imagine a better way of starting a meal at Tu Lan even though I do also love their Spring Rolls.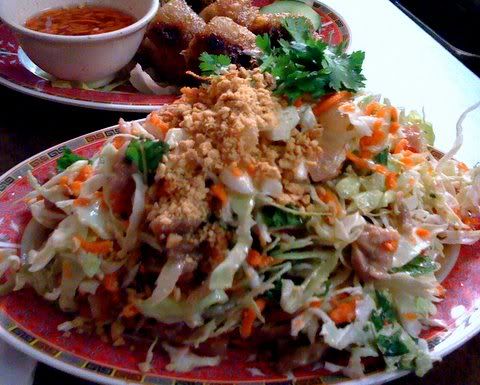 Even though I often order Chinese chicken salad in restaurants that have it on their menu, I have yet to eat one I like better than the Tu Lan chicken salad. Primarily shredded cabbage and carrots, with cilantro and shredded chicken, it is elegant in its simplicity and so flavorful with its light sweet and sour vinaigrette sprinkled with chopped peanuts. Served with steamed rice it becomes a filling meal.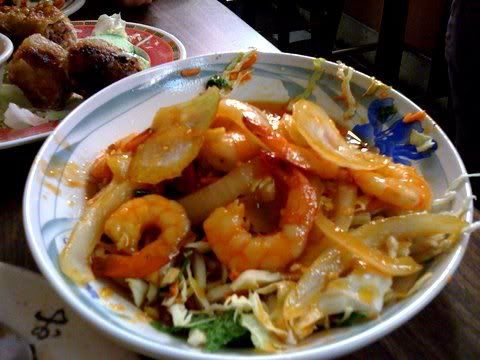 The same salad, sans the chicken, becomes a perfect partner for caramelized onions and sauteed shrimp in Tu Lan's Shrimp Salad. I've eaten this on so many occasions, it has single handedly been responsible for my inability to get through the entire menu. I want to try everything, but never manage to do that. I'm going to have to try harder the next time I visit.
On occasion I break away from the salads and try other dishes. The pork served two ways was a nice change of pace, served over noodles instead of rice. Of the two, I definitely preferred the BBQ pork that had been marinated, over the stewed and shredded pork that just didn't keep pace in the flavor competition. Pork meatballs, Sweet & Sour Pork on the menu, were good for a change as well, but perhaps because the thick sauce was so very good. It tasted similar to, and could have actually been hoisin sauce with peanuts and carrots mixed in for more texture. The pineapple that accompanies the meatballs added a vibrancy, another sweet and sour element.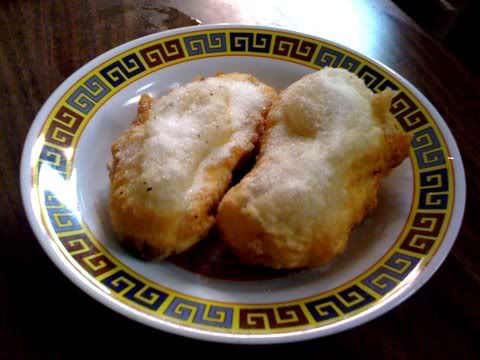 Desserts are on a very short list at Tu Lan, but the fried bananas are enough for me. Sweet, crunchy, what more does one need to finish a meal? If you're thinking Thai iced coffee, better think again unless you plan on staying up very late. One cup at 5:30 p.m. had me wired until 3:00 a.m. the next morning.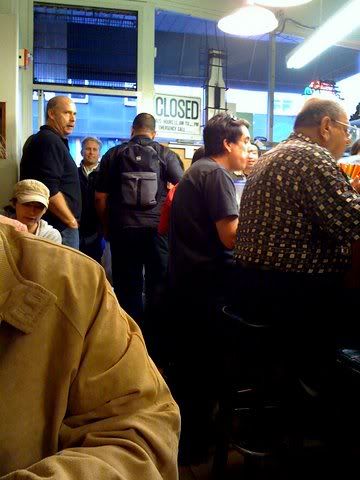 Tu Lan Menu from MenuPages
8 - 6th St (just south of Market St)
San Francisco CA 94103
(415) 626-0927