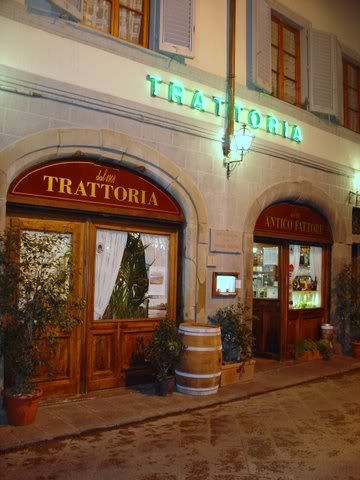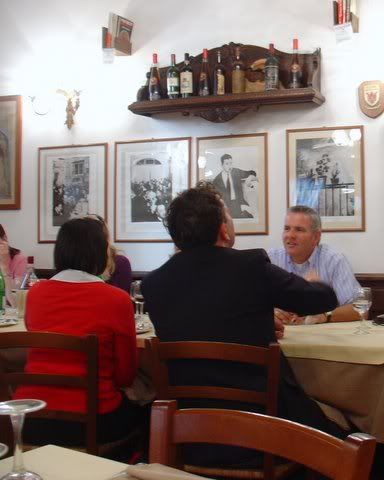 Proximity to a very good restaurant is the best way to find it and here's the proof.

Trattoria

Antico

Fattore

happened to be around the corner and one door down from an apartment we rented this year in Florence. If it were not for a personal recommendation and a very generous gift from our landlady, we easily could have found it on our own, as the aromas wafted across our threshold. Whenever asked about how to find good restaurants in a foreign country, my initial response is to say, "Follow your nose.", and that advice would not have failed me in this instance. How did I miss it for all the times I've been in Florence....it's a mystery. That will not be the same case in the future, because this restaurant is adept at producing excellent Tuscan cuisine that begs to never be missed again.
Crostini

is the classic Tuscan antipasti. You can find it in many parts of Italy but everyone will admit to the fact that it originated in Tuscany. Liver

crostini

seems to be the most typical. I'm sorry, mi

dispiace

, but it looks like cat food to me and I just cannot wax poetic about it, indeed it's difficult to even look at this photograph, but my dining companions ate it without complaint, except to describe it as having a strong liver taste. For my tastes the grilled

polenta

with

porcini

mushrooms was exquisitely earthy and had an outstanding contrast in textures. My money is on the

polenta

and mushroom

crostini

as the clear winner in the antipasti taste test and it wins hands down in the eye appeal category too.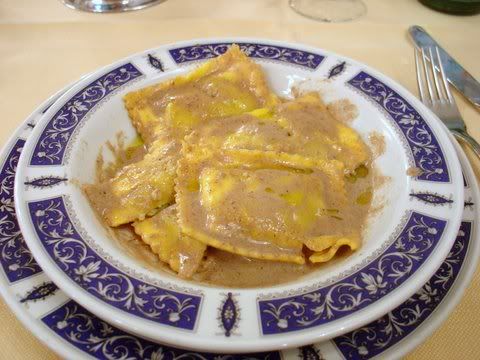 On my own for lunch one afternoon, I ventured in and ordered the

polenta

porcini

crostini

and the above photographed pasta dish, described as

tortelli

with white truffle sauce. I suspected there were also

porcini

in the sauce to extend it, but the sweet, earthy, truffle scent was well pronounced and quite evident in the drizzle of truffle oil on top. It may very well have been "

porcini

cream" with truffle oil. No matter, it was delicious and I was surprised and delighted by the filling that turned out to be made with potato and parsley.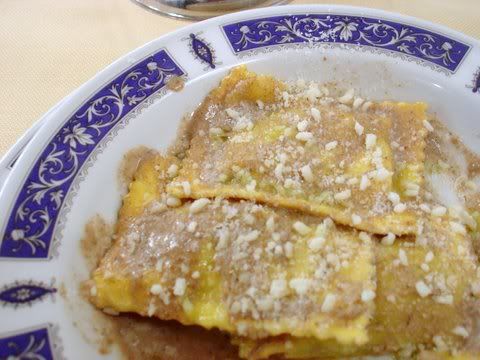 A new one for me, this combination is worth some experimentation at home. It would be nice to reproduce with perhaps some

parmigiano

added. Speaking of which, the waiter warned me not to add cheese to the pasta as it would destroy the truffle taste. My underdeveloped instinct for rebellion awoke and I resisted his advice. My well developed need for conformity, however, restrained the use of the cheese and it provided the needed taste of a little salt to enhance the truffle.
Perhaps the two best known

zuppe

of Tuscany were served to us during our "tasting menu" specially arranged for us by our landlady

Rossella

Ristori Uffizi Apartment . During our negotiations for the rental I had offered to show her a few things on the computer that would enhance imagery on her website. I found her emails charming and gladly put in the time as a good deed. She felt obliged to do something in exchange, and arranging this special tasting of traditional Tuscan food was the result. The photo on the left is

Pappa

al

Pomodoro

. You can see the olive oil glistening on top. On the right is the other classic bread soup called

Ribolito

that literally translates to reboiled. This rich, filling, and rustic soup is primarily made of vegetables, beans, bread and olive oil. Perfect for that cold, rain drenched evening and rewarming my bones at the mere thought of it.
What could be more Tuscan than beans? The photo above shows the heartiness of the bean and sausage stew. Again another nicely executed classic recipe. The lamb and artichoke combination is a lovely rich combination of flavors and a true comfort food. Since

Toscano

bread is baked without salt, it makes a good vehicle for sopping up the pan juices of the lamb.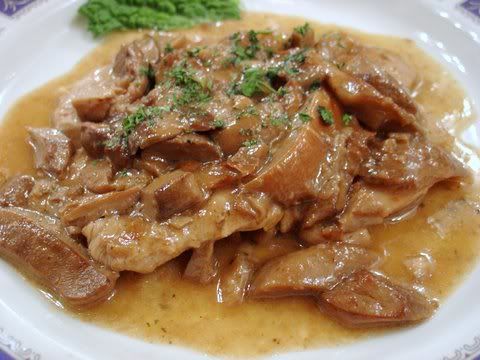 Of the three entrees we tried, the veal with

porcini

sauce was the dish that appealed to everyone equally. Often, this means a middle of the road, safe bet, but this selection while predictable in flavor had a heady, earthy note due to the

porcini

and spoke well of the Fall season. All in all, this was a very good meal and we were so full we could not manage dessert.