Now I regret ever having moved from Glen Park. Le P'tit Laurent has to be the best new "neighborhood" restaurant in the city and it's small enough to avoid becoming a destination restaurant for the masses. The food is so classically French that is does momentarily transport one to Paris (as does the faux painting in the corner that makes one believe the restaurant is directly under the Eiffel Tower), until the patrons speaking English bring you back to reality. One could easily book a standing reservation here with no regrets. Offering a 3 course meal for $19.99 will certainly bring me back often.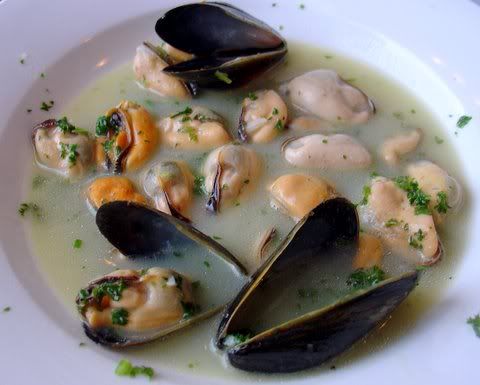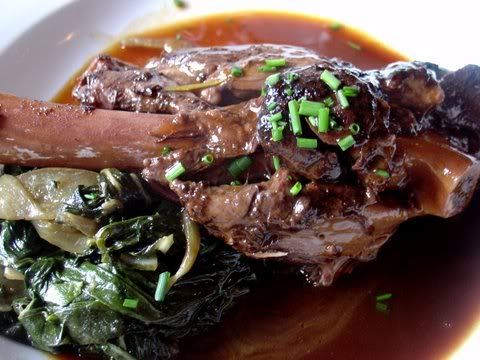 Two of us split an order of mussels to start our dinner. If half an order is what you see in the photo above, and it is, it's obvious that the portions are generous. Anxious to start eating, the photo didn't get taken or even thought of until after I had removed the shells. All the better to see the plump mussels and savory broth that was sopped up with the never ending basket of sliced baguette. It look 6 hours, by the menu account, to braise the lamb shank and it was falling off the bone tender. The
sauteed Swiss chard and wine sauce were not as photogenic as they were tasty.
Cassoulet, the penultimate culinary barometer of a French bistro did not disappoint, and clearly identified the excellent quality of this restaurant in one bite. It was perhaps the best I have ever tasted. At the very least, is was my favorite of any I have tasted. Profiteroles rounded out the meal. The chocolate sauce was fit for a chocoholic and smelled good enough to be noticed by my dinner partner.
Our companions were also complimentary of their frisee salad, mussels and New York steak. All in all, it was a wonderful dining experience. Another classic French feature of this restaurant was the fact that we were not rushed after being at the table for almost 3 hours.
http://www.leptitlaurent.com/index.html
Le
P'tit Laurent
699 Chenery St
San Francisco, CA 94131
Phone: (415) 334-3235