If you
happen to be in Toulouse, you could do much better, but perhaps you couldn't do much worse than Pizzeria Vecchio. I don't know, we didn't stay that long and found little of interest to bring us back. Still, let this be a mild warning that if you really like Italian food, you'd be better off anywhere in Italy rather than in a small city in France.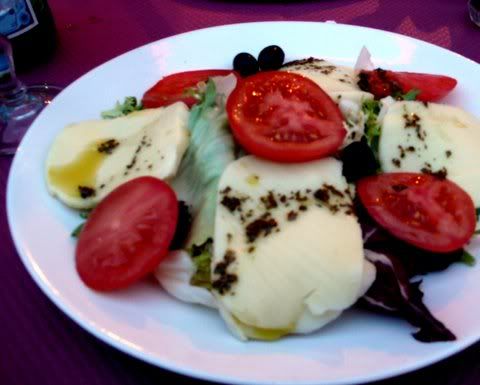 While we were very happy to be eating, the two items we selected were not the greatest choices. Caprese salad anyone? This was not your standard fresh mozzarella and tomato salad with olive oil and fresh basil, wish that it were. Instead Pizzeria Vecchio served mozzarella most typically seen grated over pizza, with a dried basil and olive oil dressing. Thankfully the tomatoes were ripe, so there was some flavor, but those chunks of aged cheese did not work at all to enhance this classic salad gone haywire.
Did I mention they had mozzarella appropriate for pizza? Yes, but unfortunately no one in the kitchen saw fit to add any to the pizza. Although the crust was nice and chewy, this pizza was lacking a fitting topping. As I look at the photo, it appears one of us just chewed off the middle without bothering to cut it into slices. I'm envisioning someone's head diving toward the plate and taking a big bite, then thrashing around like a shark during an eating frenzy. The restaurant saw no need to cut the pizza and left that to the patrons, but I guarantee we did not just dig in like that, although I have no clue how it got to that point. What I do recall is that there wasn't enough tomato sauce, there were too many diced onions, barely cooked, and the anchovies with two olives just didn't make much of an impact without cheese.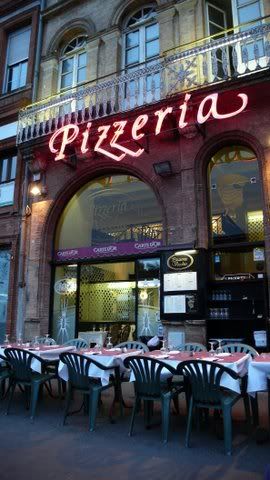 22 allées jean jaures
31000 Toulouse, France
+33 5 62 73 34 73 ‎