Of all the restaurants I've been to, Espetus must be the grandaddy of the Meat & Potato genre, although in this case it's more like meat and yucca root. Even so, when you arrive you'll be greeted by your waiter, said yucca, gourgeres, and potato croquettes. After your order has been taken and you have milled around the salad and hot side dish bar, take note of the gizmo on your table with the small wheel that is red on one side and green on the other; it will come in handy.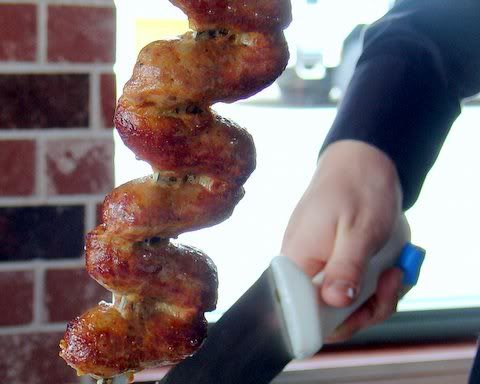 Massive amounts of meat must be consumed here each month. If you're a quantity eater you will find this restaurant very appealing. Don't be alarmed, be forewarned; shortly after settling in back at your table, you will be approached by several young men dressed as gauchos cum servers, wielding large butcher knives in one hand, and larger swords piercing through various types of animal flesh in the other. They will keep approaching you until you stop them. Like the Living Dead, if I may use the comparison, they just keep coming, but in this case you do not shoot them in the head. That's where the wheelie gizmo comes in. Quickly flip the wheel to red and the onslaught will end. You will have vanquished the approaching evil. It's not all red meat however. Along with the beef and lamb, they also serve pork, house made sausages, chicken and even shrimp. If it can be grilled, Espetus can serve it.
Although I would not encourage you to bring a vegetarian or vegan to this restaurant, Espetus does offer grilled vegetables, and salads to amuse the palate between meat courses. They also serve F

eijoada, the classic Brazilian black bean and pork stew, as well as a fish stew called Moqueca de Peixe and paella.
Espetus Website
1686 Market St at Gough
San Francisco CA 94102
(415) 552-8792