For years I've been hearing good things about this restaurant, but a photo contest is what finally brought me through the threshold. I was on a mission to photograph a specific menu item and luckily it was a wonderful selection. Even at 6 p.m. the restaurant was lively and filled with enthusiastic diners. An industrial styled space greeted me when I walked in and so did the hostess who escorted me to a table and handed me off to the very efficient and friendly waitress. A review should not be based on one menu item, and this one won't be, but I'm not waiting to start it until my return visit. I'm starting it now and will add to it as I try more and more items. i see many visits to this restaurant in my future.
Lightly grilled calamari over canellini beans was my photo subject and has become an object of desire.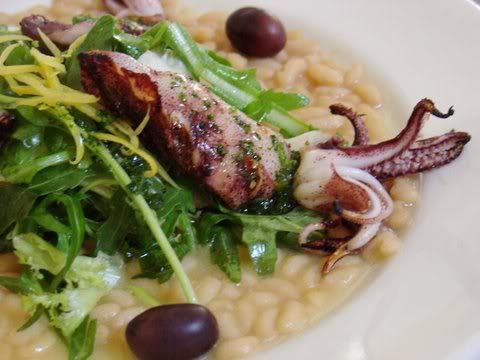 It looked dynamic on the plate with a good contrast in colors and textures, and it tasted as good as it looked. The beans were cooked fully enough to become buttery tasting against the drizzled vinaigrette from the salad.
The coil shaped sausage was presented in a fun way on a cast iron frying pan. Sauteed fennel complimented the flavor of fennel present in the sausage.
While the mussels were nicely prepared, there could have been a few more on the plate. The polenta side, seemed more generous than the main course, and inappropriately placed front and center on the plate.
My closest Italian friend always ordered gnocchi when we dined at an Italian restaurant. I finally asked why he ordered it so often, and he told me that you can tell if the restaurant is good, based on how light the gnocchi were. these were flavorful without a doubt, but not the lightest I have ever tried.
Great, we have a winner in the pasta section. The pappardelle with guanciale and baby fave was perfectly executed and tasty. It's nice to know that the pasta is house made.
Mama Mia, the spaghetti with fresh tomato and basil sauce is best left to children under five years of age. It was unremarkable at best.
The agnolotti was truly the worst pasta of the evening. It was cooked al dente bordering on raw. The pasta was still stiff as though it had been dragged through hot water in a sieve to warm it up. Herbs, grated lemon and balsamic vinegar almost reduced this to an antipasti, as did the fact that there was little heat. I walked away eating less than half of this meager portion. Thankfully I had also ordered the calamari salad, so not all was lost.
In defense of Delfina, I must say that their fine reputation is based primarily on pizza and I am assured that it is very good, but this meal left me cold enough to not return for a pizza anytime soon.