The quickest lunch I ever ate was at Hosteria Romana in Rome, so I can accurately say that the service was very fast. In November of 2009, I was on my way to meet family at the Borghese Museum with the prepaid reservations in hand, and had a difficult morning locking myself out of the Bed and Breakfast where I needed to retrieve the paperwork. Running very late didn't deter me, it was imperative to fit lunch in regardless, since this was one restaurant I didn't want to miss while in Rome. David Downie, my favorite author for Roman cooking had written a food centric handbook, or should I say manifesto, for Rome and was very complimentary about the Spaghetti Carbonara.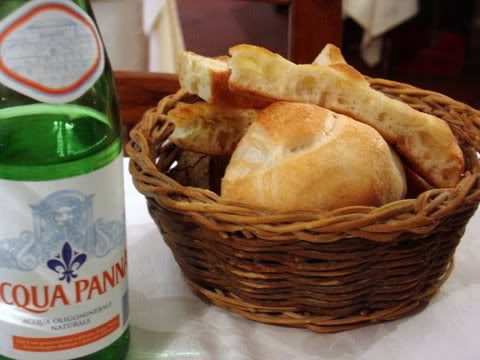 Somewhat surprised and slightly shocked by all the
graffiti on the walls, I found myself reading it until the bread arrived. Not only did I get the little rosette hard roll with the hollow center, so very classically Roman, but they also served pizza bianca, the flat, dry yet chewy focaccia, also traditional in Rome. Even though I had only ordered the pasta, they served me an arancini of rice and a potato croquette, nice touch.
Even before my own order arrived, the owner put a small portion of Carbonara on my table, short changing another customer to benefit me. It was a guilty pleasure to sample it. I think
he did that because I had shown him the Downie book with the note about his Spaghetti Carbonara. I wished he had actually read the part about the sauce being mixed table side, because that didn't happen at my table. Since I primarily went to taste the Carbonara, not only to witness the culinary magic act, I dug into the pasta and did taste the best Spaghetti Carbonara I've had to date. The guanciale was chunky and crispy enough to make a noticeable contrast with the silkiest, thickest, Carbonara sauce. This restaurant will be on my check list for the next trip. The prices are very reasonable and they even have goat on the menu as well as suckling pig and a broad selection of antipasti. You can bet I'll be going back for a full dinner instead of an on-the-fly lunch.
Update:
I did go back for another meal and can truthfully say Hosteria Romana still has the best Carbonara in Rome as far as I'm concerned. No need for further exploration, I'm sold! The roast goat was still available, so it was my dinner choice and it was thoroughly succulent and delicious. The hosteria chef really knows how to slow roast a piece of meat so it's tender and juicy, and tender to the bone. Now I long to go back to try their lamb.
On this occasion we were seated in the front dining room, a much more formal feeling pervaded and the antipasti bar was close to our table. The variety looked very nice and many people were going up to make their selections.
The vegetable frittata looked appealing and it seemed to be a popular choice. Since I had already selected two dishes, it was not going to be tasted on this particular evening, but it's on my list for our next trip.
Vegetable side dishes will also be on that list of items to try. To reconfirm the incredible taste of Hosteria Romana's Carbonara, my traveling companion went back for lunch the next day, while I was discovering more markets, and ordered the Spaghetti Carbonara.
http://www.hoteljulia.it/hostariaromana/menu.htm