It's about time that I finally talk about Ragazza, my favorite neighborhood Pizzeria. It was a long time in coming, but the North Panhandle finally was presented with a good Italian restaurant and it was quite a present. Everything is cooked on a wood burning grill and that takes some doing when you're serving pasta and polenta. In truth, there is one gas burner, but no stove, so pasta is limited to one kind only. No matter because pizza is what people flock to the restaurant to order.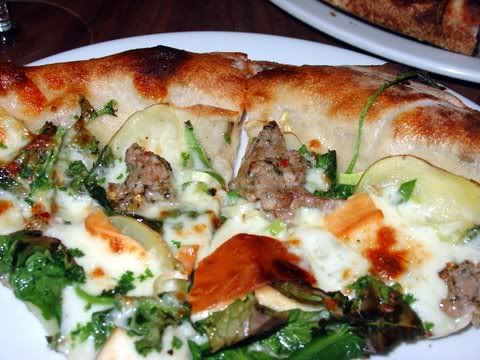 How does smoked mozzarella, sausage, potato and wild nettle sound for a unique topping? This pizza was delicious as are all the pizze served here and in part because of the dough.
Are you a traditionalist and need tomato sauce on your pizza? You won't find a typical pizza at Ragazza, so no cheese on this Puttanesca version, but you will find authentic Italian flavor combinations with sun cured black olive, capers and anchovies. You can always add the grated Parmigiano that is placed on your table along with red chili flakes.
If you have simple and traditional pizza cravings you can easily find a Pizza Margherita with both tomato sauce and Mozzarella cheese, but most of these seemed to be ordered by families with small children.
Thankfully the menu changes quite frequently, so there are so many choices at Ragazza if you are able to go there each month. Eggs are often an option for the pizze and this one was particularly good with smoked bacon, potato, red onion, Fontina and parsley.
Here's the same without the bacon and eggs, just in case that seems too much like a breakfast to you. Both are excellent choices and this works for the vegetarian. The fact that it's not overloaded with cheese is
the best part of the Regazza pizza, because the other flavors are not smothered by the richness of the cheese.
I have always been attracted to mushroom pizza, but until I tried the Ragazza version with chanterelle mushrooms, I hadn't had the best. The caramelized onion and small amount of radicchio added a bittersweet (literally) taste that was the perfect complement to the mushrooms. I believe Fontina was used on this pizza also.
Just look at that chewy crust. Of all the pizze I've eaten, my favorites always have a flavorful, chewy crust. Pizze with no puffy, chewy edges just leave me, well, flat. You can see that the exterior has a great little crunch to it. this was a Pizza Bianca. Again, no tomato sauce, but cheese, arugula, radicchio and white truffle oil.
Salads are inspired at Ragazza. I believe this one was inspired directly by Sicilian cuisine because of the combination of oil cured, bitter black olives, blood oranges and fennel. We've also eaten broccoli salad, corn and orchietti salad, and radicchio salad that were very different from what you find in other Italian restaurants.
As far as grilled meats go, who could resist a perfectly cooked pork chop? Not I. It was blushing pink in the center and so juicy I had forgotten it was a pork chop.
The first had sauteed chanterelles with
creme fraiche on top. They were creamy tasting to begin with and the savory mushrooms gave the polenta a very complimentary earthy taste that seemed so appropriate for a chilly evening.
Ragazza's Website
311 Divisadero St
San Francisco, CA 94117
(415) 255-1133