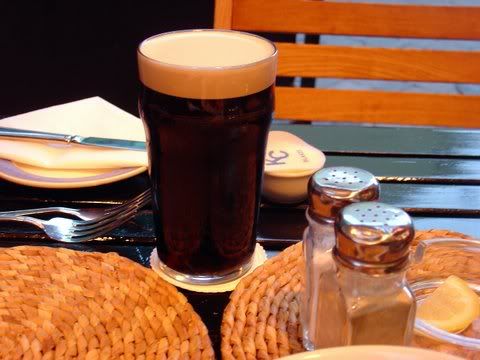 No photos were taken of K.C. Blake's in Galway, but no matter, it was not an attractive building and we ended up eating outside on a narrow little stretch of the main, pedestrian only street leading into Galway City from the bridge. Earlier in the day I hadn't even realized it was a restaurant. The interior was modern and attractive, but completely booked, so we dined alfresco. Bad idea; we were all but forgotten by the wait staff and I recall going in twice. Once I went in to find out what was going on with our order, and again to ask for our bill, half an hour after we had finished dessert. I can't blame the wait staff, it was cold out there. I'm not a Guiness fan, too bitter tasting to me, but my dining partner enjoyed a pint once in awhile. The bread was photographed because it was there. It was supposed to be unique I suspect, but it wasn't as good as traditional Irish brown bread.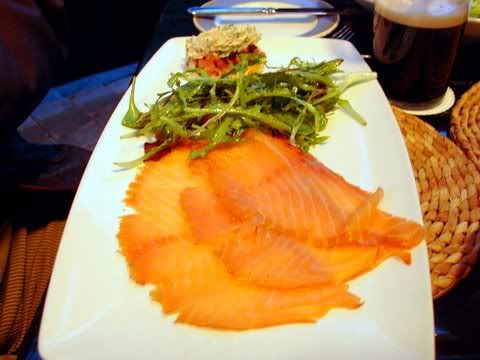 Who could resist smoked salmon in Ireland? I hope the answer is no one. We split this luscious course and were happy to have ordered it. I think the Irish are very adept at working with salmon and they know how to smoke it without drying it out.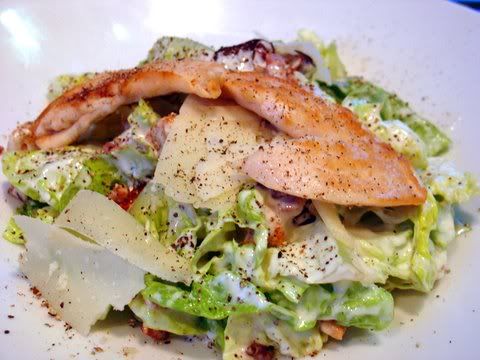 You can't find a standard recipe for Cesar salad in Ireland. There must be as many recipes as there are chefs, but at least this one used Parmigiano cheese and cracked black pepper, although the dressing was more Ranch than anything else. I have to surmise that they really like the name and are reasonably assured that a salad christened with that name will be ordered by tourists. This chicken Cesar was the best of the trip for my dining companion; close, but still no cigar.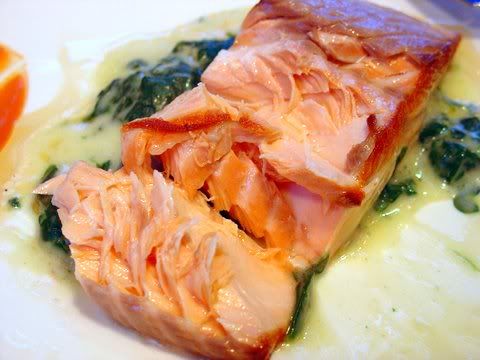 The salmon I ordered as a main course was cooked lightly, to perfection really. It was moist, tender and delicious, it flaked off the bone, and that is where I must protest, I had to debone it myself. No tourist wants to die from choking on a fish bone while on vacation. I guess as a nation of fishermen, the Irish would see this criticism as trite and maybe they'd be right. But I stand by it.
Blake's made up for their lack of service, the freezing alfresco table on the street, and the bony salmon with their Pavlova. It was the first I have ever seen on a menu and I've been wanting to try one for years. It was decadent, crunchy and fluffy, sweet and satisfying. What a great dessert. It's obvious that Blake's is one of the few upscale restaurants in Galway. I hope they get their service improved, so they can continue to serve the community. I would consider going back if I were able to dine inside.


Galway, Co. Galway, Ireland