That's quite a mouthful to say...enogastronomia! Basically, Il Cuore, the heart, is a gourmet food and wine store with a space set aside for serving meals. It was not the comfort level of the rooms that conferred the title of ristorante to this small space, but the high quality of the food.
The refrigerated counters in the front of the shop were filled with soft and semi soft, regional cheeses from all over Italy, as well as prepared foods to take out. All sorts of delightfully Italian food products were available to tempt the gastronomia's regular customers, and we travelers who think food products are the perfect souvenir. I did not dare
look too closely as the distraction would have delayed lunch and we had arrived rather late as it was. What I do recall most of all were the aromas of the restaurant wafting through the gastronomia onto the street.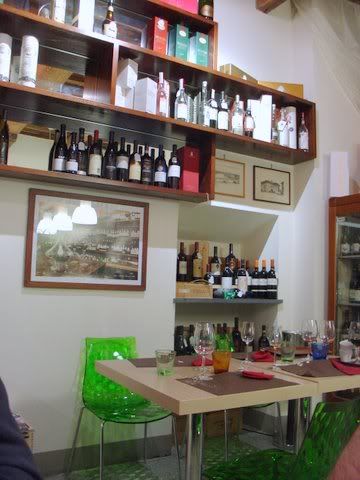 The restaurant space was a rabbit warren of small rooms filled with bottles of wine for sale, and crates containing more wine. The plastic chairs were adequate for seating, but not comfortable for leisurely dining. It seemed more lake a trattoria or cafe, until the food arrived. Someone in that kitchen knows how to cook and has a link with the past, but is looking toward the future.
The steak ordered by our nephew was cooked in the Tuscan tradition, barely at all, but it was excellent in taste. The lightly sauced agnolotti were a nice addition to the plate.
Traditional tomato bruschetta was ramped up a notch with truffle oil. It was a nice way to start the meal, but not a very adventurous choice.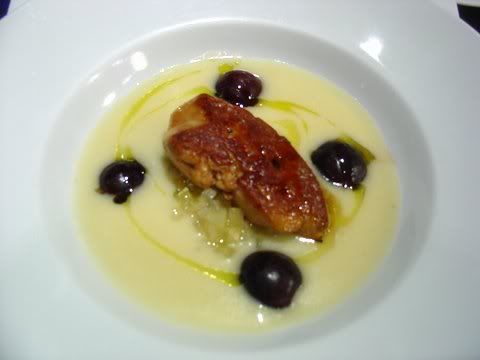 A better way to start the meal, at least for me, was the pear and pecorino soup, garnished with foie gras, white truffle oil and grapes. What a garnish!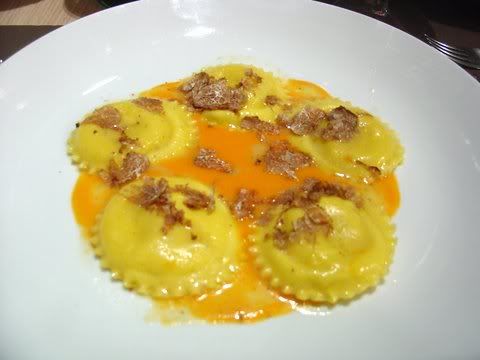 I could not fault the ravioli filled with Castelmagno, a Piemontese primarily cow milk cheese. They were wading in a pool of red bell pepper coulis and were showered with shaved white truffle. Fall is the perfect time to travel in Italy, when fresh tartufo and porcini are readily available. This ravioli went well beyond traditional Italian pasta dishes and ranks with the better pastas I have eaten.
The cheese plate was as good as one might expect from an establishment selling fine cheeses out the front door. The selection included cow, sheep and goat milk cheeses. The walnuts, honey (in the bowl) and quince preserves rounded out the dish as well as the tastes of the cheeses.
Via Del Battistero 2
Lucca Tuscany Italy
phone: 0583 493196
http://www.ristorante.ilcuorelucca.com/en/il-cuore-lucca-/restaurant/lucca-restaurants.html