One could not ask for a better neighborhood restaurant and the fact that it graces our neighborhood makes it even better. North Panhandle or NOPA is starting to gentrify in the extreme with really excellent restaurants opening up over the last several years. Perhaps the owner of Baker Street Bistro decided on NOPA because he recognized the trend and saw that our neighborhood could actually support fine restaurants. Whatever his reason, we are the beneficiaries of the decision and think it was a great idea.
Bistro Central Parc, has been a long time in coming and we are ready for it. Every time we walk by it is packed, and the authentic French menu, as well as the quality of both the service and menu selection is surely going to make it a destination restaurant for San Franciscans, no matter where they live in the city.
Parking is not easy in the hood, but as soon as people realize what a great transportation hub it has, they'll make a beeline to this restaurant.
Easy to get to by bus, if the word parking puts a chill up your spine, the #21 bus stops one block south on Hayes and Central. I'm already planning on taking out of town guests to the " the Parc".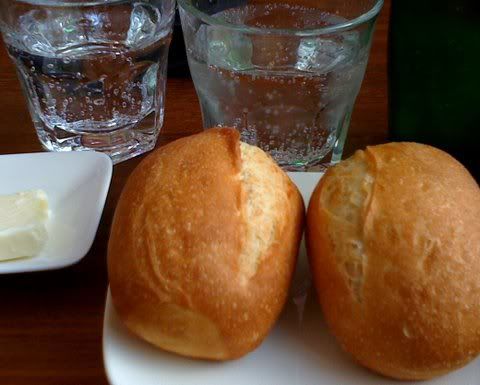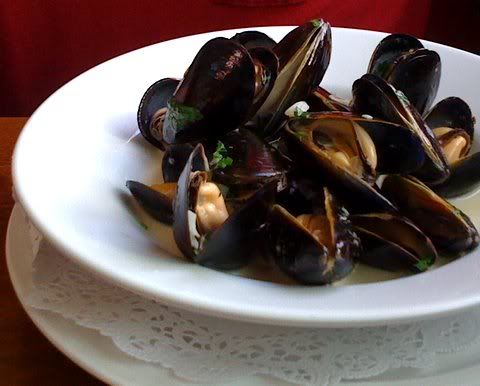 Maybe they don't, but I suspect the French rolls are house made because they are so "French" and very fresh for that matter. Even though I have been trying to curb my interest in bread, these little gems, tasting every bit as good as a baguette on the streets of Paris, proved irresistible, especially with the mussels.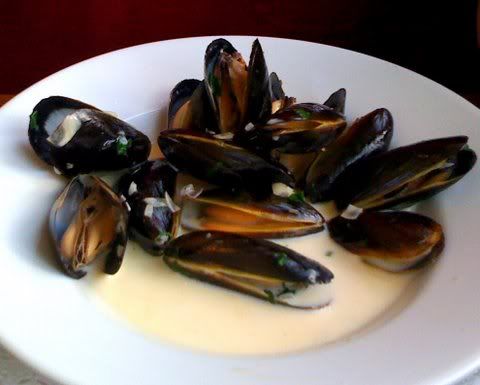 Always a staple on a Mediterranean menu, these mussels ( $12.50) were bathed in a rich cream sauce and cooked just enough for them to release their liquor, without making them tough. They were most tender and succulent and filled their shells to plump perfection. These easily could have been a light meal in themselves although we did not stop here and went on to order a second course.
Our second starter was a goat cheese and wild mushroom tart including black trumpet mushrooms, spread on a crust of layered phyllo dough that was typically flaky, but a bit thick to cut with a fork. The tart was topped with mildly dressed frisee with fresh tarragon, that would have made a fine salad all by itself. It felt as though there were two starters on one plate and that was a good value at $10.00.

The tartare seen in the background of this photo was excellent and it was nice to see it in a shape other than a mound. For my money the French lamb chops were the star of the show on this particular evening for many reasons, the first being price. At $19.50 for a four bone rack, they were inexpensive by most standards. I had asked for the meat to be cooked to a medium rare and that it was. The Gruyere tuile and fried parsnip elevated the dish from fine cuisine to fine art in presentation, an edible sculpture.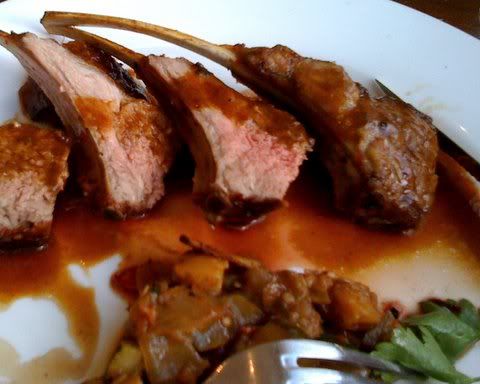 It was especially nice to find the sauce "on the side" presented in a small creamer. In terms of photography, it made capturing the essence of the dish much easier without splashes of sauce to conceal or crop from the photo. The ratatouille made a nice side dish for the lamb, as well as enhancing the color on the plate. This is the first time I have seen the bottom of the rack cut in order to allow it to stand vertically on the dish. I took great pleasure in cutting that piece first before separating the rack in order to cover it with the sauce.