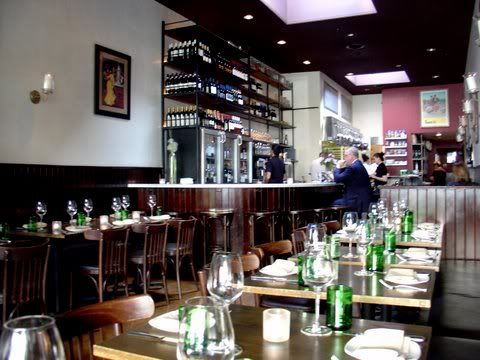 After the success of A-16 in the Marina with it's regional Italian food of Campania , I was looking forward the same team's take on the food of Lazio at their new venture, SPQR. It only took one mouthful to know that they had earned another notch on their Italian leather belt. I believe they are taking more liberties with classic dishes of the region, but that point becomes moot when you've tasted such delicious and interesting food; case in point, the fried pigs ears with pickled peppers.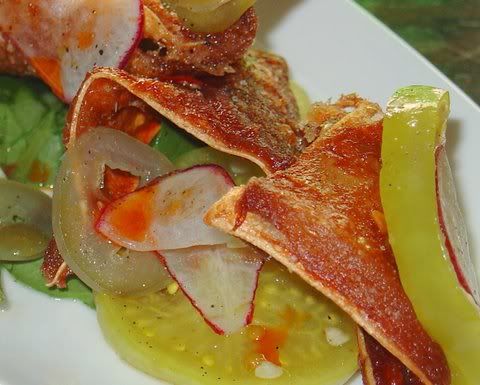 Italians are well documented for eating offal, so pig ears are not a stretch, but you would be hard pressed to find pickled jalapenos in a classic recipe. It matters not, however, because this antipasto was outrageously delicious. So good in fact that I have sought out pigs ears in other restaurants without ever being satisfied with the result. Admittedly, even SPQR itself cannot compete with this dish. On a subsequent trip to the restaurant I tried the fried pig ears with melon salad and it was a mere shadow of its former presentation, even with the red pepper added for heat. I preferred the small ears served whole, rather than sliced, since the original dish seemed to contain more of them. When sliced the pig ears became more of a condiment on the newer version of the dish. Kudos to a restaurant that's innovative and changes offerings with the seasons, like a good Italian menu should, but I hope to see the first version at the restaurant again. I suspect it was on their spring menu.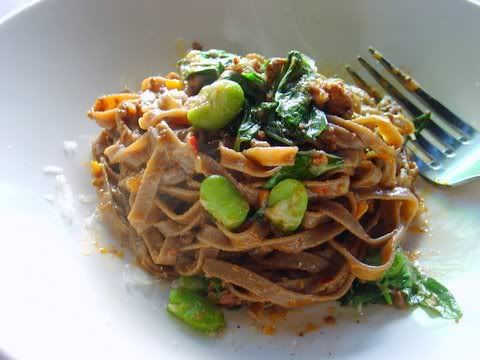 That's because I ordered it on the same evening that the pasta above was ordered. Fave herald spring in Italy, along with artichokes, and peas. So seeing even one fresh fava in this photo gives a clue to the time of year. This was my first experience with buckwheat pasta which was so subtle in flavor it seemed to be used exclusively for color. There was nothing special to recommend it, but it seemed appropriate that it was used with a wild boar sauce that had some unusual spices in the recipe and if memory serves me, some cocoa powder too. The taste cannot be described adequately, but it was very rich and seemed more likely to come from the Northern Italian tradition rather than from the south. Venice is the place to find cinnamon and cloves in traditional sauce recipes, as well as the place where you can always find "bigoli" a Venetian pasta made from buckwheat . If the Roman Emperors ate the best food in the empire, the inspiration for Lazio recipes could have come from anywhere originally. Hopefully we will not see peacocks or mice, great delicacies of the Roman Empire, on the SPQR menu anytime soon.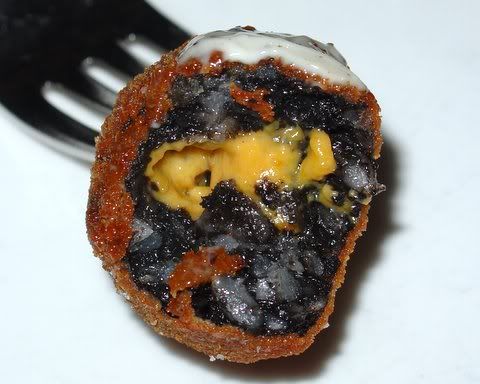 Again, I've seen more squid ink risotto in Venice than anywhere else, but that did not stop me from eating this arancini, definitely a Southern Italian antipasto, filled with sea urchin and the squid ink risotto. This briny tasting fried morsel went into flavor overload when it was dipped into the earthy tasting truffle aioli. This recipe was so modern and inventive.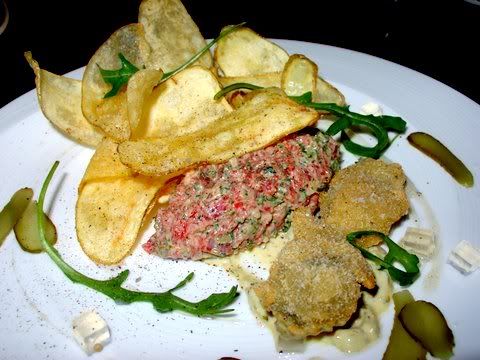 Here's another modern interpretation of Italian cooking, or in this case French; Kobe Beef Tartar with fingerling potato chips, fried oysters, strands of agretti, a fleshy, slightly sour tasting vegetable, cornichons, and a gelee that I don't recall even seeing at the time. There's a lot going on with this recipe, but it was very enjoyable.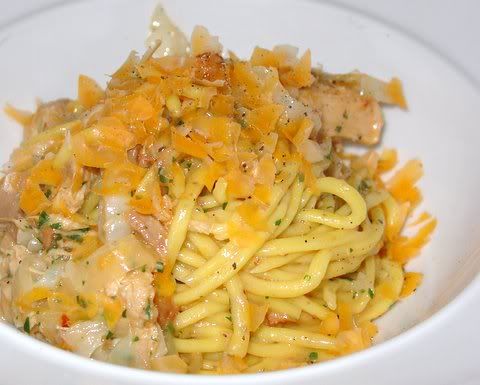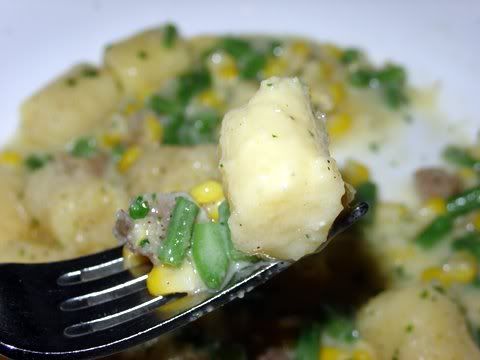 Dining with friends who enjoy sharing their food is an experience that all of us should be fortunate enough to enjoy. Luckily, many of my friends are willing to do this and that suits me, since it allows for a broader tasting of different dishes offered by a restaurant. These days two courses are about all I can handle. Many of the reviews here contain only a starter and a main course, but this was a special occasion. We each had three. The pastas, as you see them left to right, are a buccatini with pork ragu; potato gnocchi with pork meatballs, and a butter sage sauce; and a semolina gnocchi (gnocchi in Lazio is traditionally made exclusively from this flour and contains no potatoes at all) with pancetta, corn and green beans. All were very good and we enjoyed sharing tastes of each.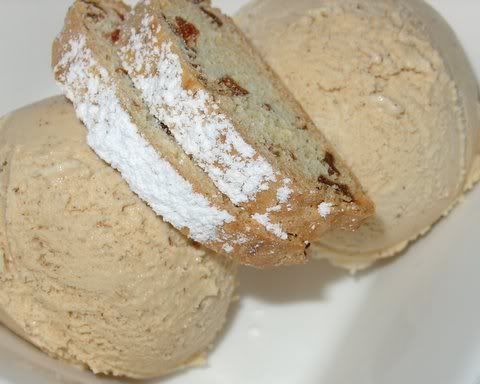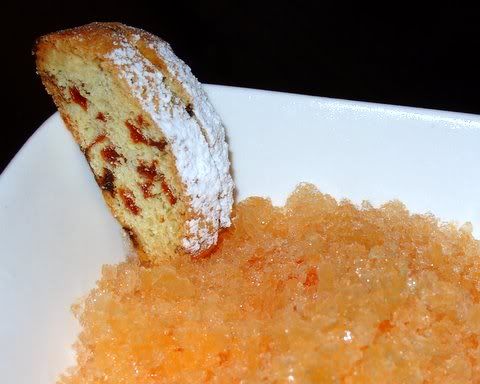 Desserts were more traditional than anything else on the menu. The caramel flavored gelato had a nice texture and was accompanied by biscotti, as was the cantaloupe granita. The granita had a course, but consistent texture that made it sparkle like glass beads rather than ice. As fascinating as it was to look at, the flavor seemed a bit watered down. Tiramisu, the cake, coffee and mascarpone "pick me up", was the best and richest tasting. Its deconstructed presentation was, as was most of the food we ordered, very modern and inventive.
1911 Fillmore St
San Francisco CA
(415) 771-7779