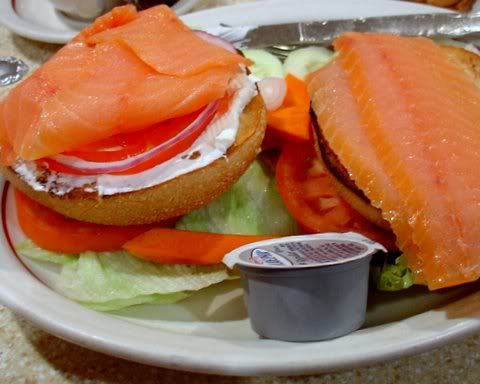 This diner had no real charm, frazzled but polite and efficient waitresses, speed lightening service, and the best priced meals in the area. No wonder it was packed. Only trying one item, I'm no expert, but I liked this place. It appealed to my sense of thrift and efficiency.
We had passed by this place on many an occasion, because it was only 3-4 doors down the block from our hotel. It made no impression at all, except that it had no visual appeal, but was usually full. Nova lox and bagels are perpetually on my "must do" list for NYC, so off we went in search of an alternative to breakfast at the hotel restaurant. You may not think of lox and bagels as a "breakfast of champions", but I'm willing to eat it any time of the day or night.
We were staying at another hotel this trip and found no place we wanted to try. Since we were running out of time for an appointment at the New York Yacht Club, we headed for Red Flame since both are on 44th St within a block or so of one another. The breakfast rush must have just ended because we were immediately seated. Once I saw lox on the menu I had made my selection, called the waitress over and placed the order. Within 5 minutes, our plates were set on the table. Could someone have ordered Nova lox and an order of french toast 15 minutes earlier and walked out 10 minutes ago? I have never seen service that fast, before or since.
I had no great expectations for a Nova plate costing $9.95 after having them many times for $12-$14. The cream cheese single serving container was no surprise; bagel, plain, no seeds; iceberg lettuce, predictable; beefsteak tomato and red onion ring, adequate; no capers, expected. But what a delight it was to find "melt in your mouth" Nova lox in generous proportion on that plate. Okay, I did have to ask for a second helping of cream cheese, other than that, Red Flame really delivered.
(212) 869-3965
67 W 44th St #1 (between 5th and 6th Ave)
New York NY