Popular wisdom tells us "You can't go home again.", and I have discovered the truth in that with El Mansour. Just as charming as it was 20 years ago, my perception has changed and it does not seem as mysterious, exotic or entertaining as it once did for this patron. The food is still good, but my palate is more educated, my travels more broadened, and my idea of entertainment no longer satisfied by the theatrics of mint tea being poured into a glass 4 feet away, nor belly dancers gyrating several feet away, as I try to finish my meal. In truth, I never appreciated the belly dancing as much as did my dinner dates. On this occasion my dining companion was little more than annoyed, considering the show an interruption to his dinner and our conversation. In truth, we made the reservation early to avoid them altogether. Still the bastilla (bastela) is a dish everyone should get a chance to try and is worth any effort it takes to do so.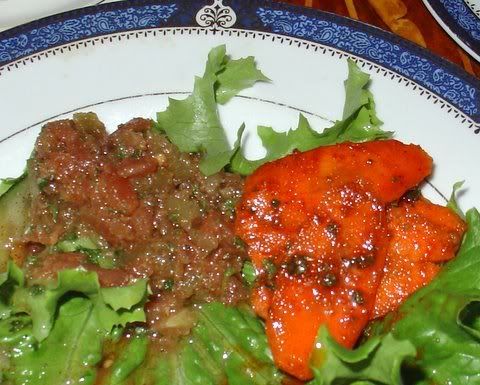 Part of the Moroccan tradition is to wash hands before the meal; a necessity since no utensils are used. El Mansour makes certain that happens by bringing hot, orange flower, scented water to your table and overseeing the operation. We started the meal with flat bread to transport eggplant and spiced carrots, along with other items from the plate to our mouths. This was a refreshing first since it is cold, and let me say here that the prices are very modest for what amounts to a four course meal.
The next course is a light lentil and vegetable soup, seasoned well with spices and also served with the bread.
For me, the bastilla will forever be the star of the show at El Mansour. It's a succulent chicken pie, although I believe pigeon is more in keeping with tradition. The poultry is mixed with chopped almonds and spices, wrapped lovingly in buttered layers of phyllo dough, baked to tender, mouth watering perfection, then kissed with a heavy dusting of powdered sugar and tattooed with cinnamon.
If the entire pie were the main course, I'd be eating here weekly.
One main course we ordered was the combination of chicken and lamb with vegetables on couscous. the lamb was a bit bony, maybe a shoulder cut, but nicely seasoned and falling off the bones tender.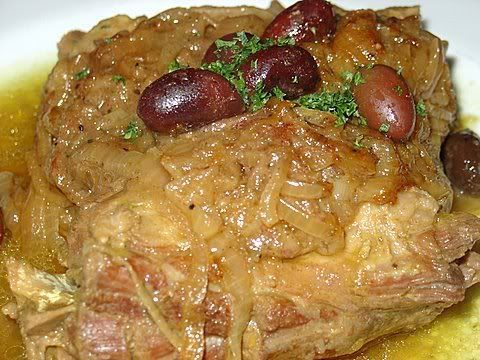 Entree number two was the lamb with onions and olives. More savory than the chicken with honey and almonds, it too was satisfying, even though it did not come with vegetables. We could have ended our meal then and there, except for the tea that is traditional at the end of the meal.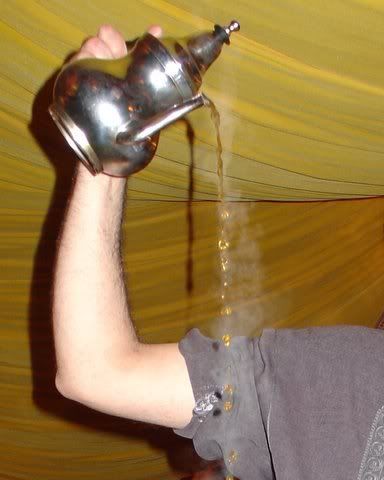 The spearmint tea was not as cloyingly sweet as I had remembered, perhaps a ploy, since we felt it necessitated a dessert to go with it. Not such a bad idea.

3119 Clement Street (between 32nd and 33rd Avenues)
Telephone:(415) 751-2312

Dinner Tuesday through Sunday from 5:00 to 10:00 pm.