Another hold back from a bygone era is Bill's Place out on Clement St. When you make a good burger or many of them in this particular case, it's difficult to close your doors. Bill is long gone, as is the former second location, but the person taking over the restaurant knew how to capitalize on the reputation and good will that preceded him. Thankfully for those of us who are nostalgic about the burgers, there were no menu changes, except for the Don Burger named after the new owner. So you can still order what you ordered on your very first visit. With names like Herb Caen, Milton Marks and Carol Doda, you just know these are the original combinations, some of them going back as far as 1959 when the restaurant opened.
It's a matter of pride for me to try new items when returning to a restaurant, but I continuously reorder the Jack Shelton burger from Bill's Place, probably because the red relish reminds me of the relish used on Bob's Big Boys, the burgers of my particular youth. McDonald's stole the Big Boy and renamed it the Big Mac. My blood boiled when I found one of the last remaining Bob's Big Boy restaurants in Georgia and they had changed the red relish to an imitation of the glop used on a Big Mac. It was like seeing the king bow to the pretender on the throne! I must have seemed like a raving lunatic as I complained to management about it. Sometimes you have to stand up and be counted. What's right is right, but let's get back to burgers.
Here's a photo of the Jack Shelton Burger. I think it can be ordered with cheese, but I never bother gilding this particular lily. I appreciate it's simplicity and can testify to the fact that "relish" is the perfect name for this condiment. Its sweet and sour, spicy flavor is the perfect foil to the rich, fatty meat. Our pantry was never without this relish while Bob' Big Boy was still marketing it in grocery stores. Ketchup and sweet pickle relish are a poor substitute for that sauce, but I suspect it was not much more than those two ingredients.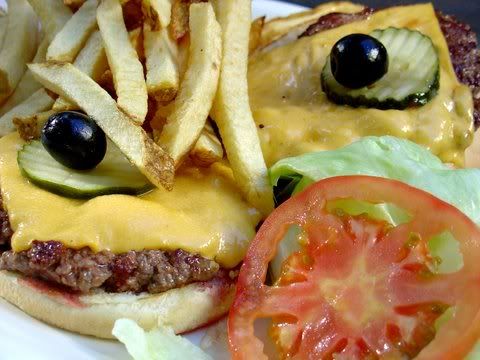 This photo depicts a double cheeseburger, if ever I saw one, and I've seen plenty of them over the years. However, this was the first to ever appear to be looking back at me. I suspect someone in the kitchen had a sense of humor. The burger was cooked medium rare to order and you can see how juicy it was. There are more convenient burger joints in San Francisco, there are more sophisticated burgers, but Bill's Place is our place for a burger.
What's a burger without a classic Chocolate Malt chaser? Bill's has to be one of the very few remaining restaurants that know intuitively how to make a perfectly executed chocolate malt. The ingredients are key in achieving the right taste. With the milk you need chocolate syrup, not chocolate ice cream. Vanilla ice cream is essential as is malt powder, not malt syrup, which has an almost molasses like aftertaste if it's too plentiful. Best of all Bill's knows the serving ritual. It must come in the stainless blender container, so you can get every last drop, that on a good night means 1 and 3/4 glasses full.
2315 Clement St
San Francisco, CA 94121-1919
(415) 221-5262
Open: Sun-Thurs 11am-10pm Fri-Sat 11am-11pm