If there truly are ladies with leisure time "who lunch", then this is the perfect venue for them. Because of the demands of preserving architectural heritage, Neiman Marcus worked their remodeling around the dome and mezzanine of this venerable old San Francisco building, formerly occupied by City of Paris that originally sold goods out of a chartered ship during the Gold Rush. The building, built in 1896 was the finest example of a Beaux Arts commercial building in the state and I for one was pleased to be able to sit in this beautiful space for an Afternoon Tea, something the ladies would most assuredly approve.
Finger sandwiches and pastries reigned supreme and lorded over the table on a two tiered tray. How shall we work this, from the top down or should we start at the bottom and work our way up?
As a fan of a Cream Tea, and having worked my way around a tea table or two, I went for the gusto and picked up a scone. Unfortunately, there was not a lick of clotted cream in the place, so I settled in on butter and strawberry jam. Close but no cigar. I must say, the madeleines were buttery, rich and sweet. The petit fours were a delight. What little girl hasn't fallen in love with these mini cakes?
Besides those, the lower tier of the tray held mini brownies, raspberry tartlettes and mini lemon cupcakes. These lilliputian sized portions of sweetness and light barely needed one bite to consume, but we did save them for eating after sampling some of the more savory offerings.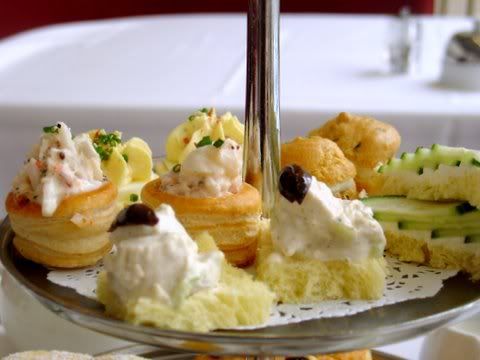 It's amazing how much food is really served with an Afternoon Tea. Even when sharing and eating only one of everything the portion is still 10 small items and that adds up.
So, here we have them lined in a row for easy identification. In front is the crust less (how genteel) cucumber and cream cheese finger sandwich, followed by the egg salad finger sandwich, then a shrimp salad in puff pastry, and finally tuna. The little girl who loves petit fours would turn up her nose at every single one, if they had been served in a normal portion, but would consider these "cute". All in all, this became a nice afternoon on a holiday weekend and the ladies at this table, both fully employed, enjoyed the snippet of leisure. One downside, the napkins are full of lint, so don't use them over dark clothing.
150 Stockton St
San Francisco CA
(415) 249-2720