Tucked along a small side street off Via Independenza in Bologna you will find a classic Italian osteria, Osteria Piazza Grande. Funny, I don't recall it being on a piazza at all, and certainly not a large one, but a name can be misleading and certainly is in this case. Osterias are generally family owned, modest restaurants serving affordable, family style cooking and this one is no exception. Affordability is, of course, relative and with the plunging dollar, this cannot be considered a place to go for a cheap meal, just a good meal.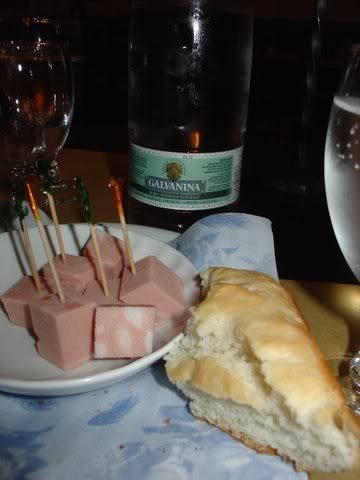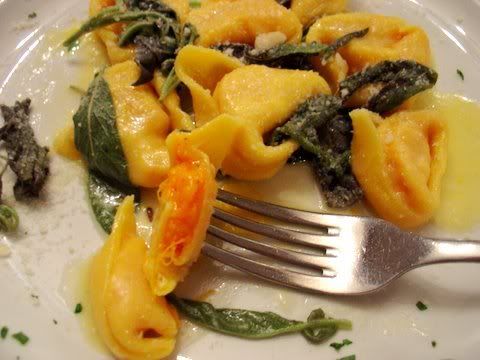 As is the case in many a Bolognese restaurant, Mortadella can be ordered as an antipasto course (5 euros) but they also have a selection of salads and salumi for antipasti including the sausage in the photo below (9 euros) that my traveling companion ordered as his entree. Never having met a pasta I didn't like, my first course was The Tortaloni di Zucca (11 euros) with a sage butter sauce. The filling was totally squash without ricotta, nutmeg, crushed amaretti or anything I have become accustomed to finding in a squash ravioli (my word, not theirs) and it was delicious in its simplicity.
The grilled sausage was another dish that was simply prepared and just what one would expect, but again, no surprise. What you see is what you get, until it came to the meat course that was totally hidden under arugula and shaved Parmigiano. The veal (16 euros) was tender and had been very lightly sauteed in olive oil. All it needed was a little salt.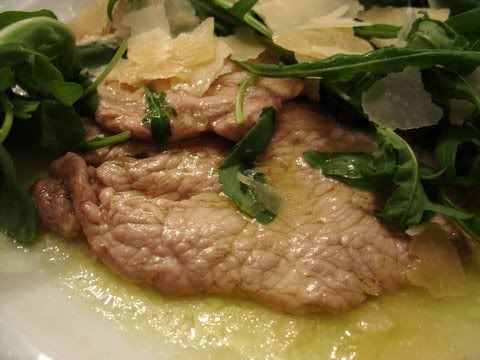 http://www.ristorantepiazzagrande.it/
Via Manzoni 6
40121 Bologna Italy
Phone 051 265786