Of all the restaurants we have stumbled upon during our travels, Gallo D'Oro (Gold Rooster) in Parma has to be our favorite. So good in fact, we have made daytrips there just to go to dinner. If our memory fails and we arrive on a day they are closed, we make do at their sister restaurant, Trattoria Ai Corrieri that also serves Tortelli di Zucca and a pretty good Spaghetti and Meatballs too. But nothing tops Gallo D'Oro.
The first thing one notices upon entry is the large and rather impressive, red prosciutto slicer. The owner would look so proud as he sliced off pieces for the antipasti platters. We believed he set it in the center of the room so everyone could see it in action, it was elevated to theater with him at the wheel . In the photos above one can also see a rather grand mortadella, pancetta and culatello, the most exquisite of prosciutti.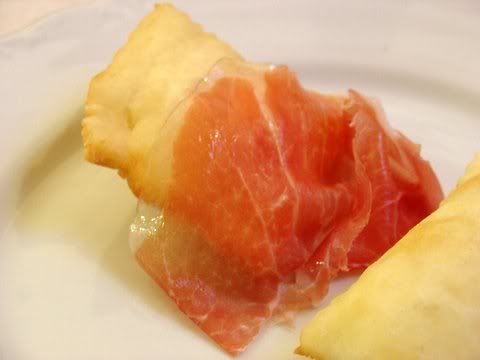 Culatello is generally much moister than prosciutto, perhaps because of the marbled fat in the cut of pork used to make it. At Gallo D'Oro it is served with a fried bread called piadina that puffs up and holds the heat long enough to melt the fat on your salumi of choice. One bite and you know why they are a perfect compliment to one another. If for no other reason, piadina and culatello combined are reason enough to bring fame to Emilia Romagna culinary tradition.
Another heavy hitter on the culinary team is the tortelli. Gallo D'Oro has a sampler plate of tortelli made of squash, ricotta and herbs, and veal; each and every is one delicious on its own. You can also order them individually. I especially love the crushed amaretti cookie crumbs in the squash version. A butter sage sauce completes the dish and goes perfectly with each flavor.
Colle Piacentini wines are the wines Emilian recipes were developed to compliment and my favorite of them is Gutturnio. It is a big, fruity, but dry, red wine that is frizzante (sparkling). Nothing like the cold duck produced in the U.S. or Lambrusco, the most common sparkling red imported here. It is not a sweet or semi dry, but a true, dry wine. It works well with everything except dessert.
When I was a child my Italian grandfather would add sparkling water to his red wine. I was always curious as to why he would water down his wine. The minute I tasted Gutturnio I understood that is was the closest he could come to a dry, sparkling, red wine in the U.S.
Another Northern Italian classic dish is the roasted, stuffed breast of veal. My grandmother made it once, but I failed to ask for a recipe. It doesn't seem that difficult to figure out. The stuffing is made primarily with bread crumbs, egg, and parmigiano cheese. It makes for an excellent "secondo". After a meal like this, we just could not find room for dessert.
http://www.ristorantidiparma.it/old/gallo/index.html
Borgo della Salina 3
Parma
0521-208846
Mon-Sat noon-2:30pm and 7:30-11pm