Of all the "small" restaurants I've been to, Cafe Jacqueline has been the most intimate, yet has the biggest wow factor. The "wow", not reserved for the souffles alone, but for the fact that each and every one is made to perfection, as well as to order by Jacqueline herself. This much work would have done in a less hardy soul after 30 years or more. Again, the was a Foodspotting driven meal, where I had to photograph a specific item at a particular place. I have found some wonderful restaurants doing this.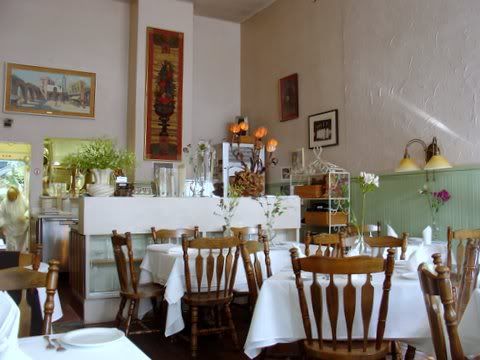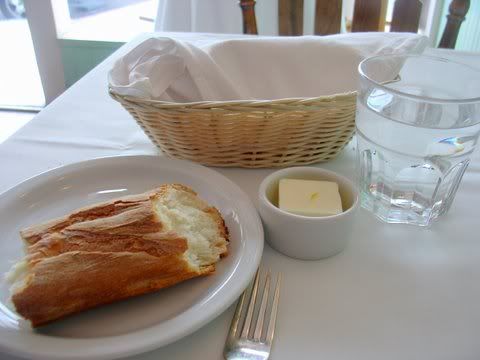 The decor was simple, quaint, and had a freshness about it, as though grand-mere had just finished her spring cleaning. The silver was polished, flowers were fresh, the linens were clean and crisp. What more could you want? Could that be a baguette and sweet cream butter, tasting just as you remembered them from France? Done!
Because I was the first person in the door, my wait was not terribly long, only the length of time it actually took Jacqueline to make the souffle. A review I read in SF Weekly mentioned the romance of this restaurant, where you spent a very long evening, most likely gazing into one another's eyes, while you waited for your order, and ordered a bottle of wine during the extended linger. If you're alone, bring a good book and a doggy bag, because you cannot gaze into your own eyes unless you also brought along a mirror. Furthermore, every souffle is prepared for two and even the most famished of individuals could not polish off one of these at a sitting.
Lordy, the mushroom souffle was heaven on a plate. The sweet earthy taste of the mushrooms was extraordinary and I attribute this to the simplicity of the recipe, and the deft hand of the proprietress. The texture was soft and luscious, firmer than a coddled egg but not as dense as custard. This was my first souffle, but certainly not my last. I desperately wanted to try the chocolate souffle for dessert, but had to retreat from the restaurant with half my dinner in tow, because I was full. My personal dining policy of "no dessert unless dinner is finished" prevailed, but I had romantic ideas about coming back another time with my long term dining companion, holding his hands across the table and ordering that bottle of wine. It so happened that he like my leftovers.
Cafe Jacqueline has no website but here is a link to Menu Pages
1454 Grant Ave
San Francisco CA 94133
(415) 981-5565

Wed-Sun: 5:30pm-11pm