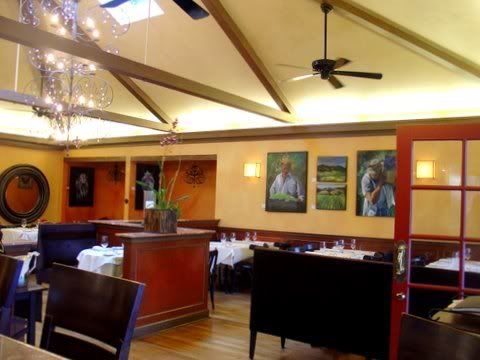 If your plans include a trip to Santa Barbara, a visit to Elements is a necessity. A personal friend who used to live in Santa Barbara suggested we try this restaurant, and we have yet to thank him sufficiently. Our only regret is that it is not a local restaurant for us. This restaurant delivers California Cuisine at it's best in a casual, comfortable atmosphere that begs one to linger. We are actually planning our next visit south around being able to go back for lunch.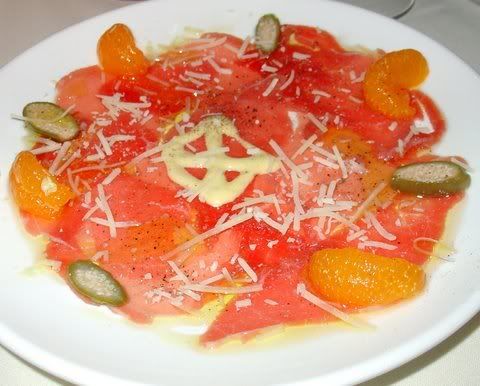 As you can see in the above photos, the food is beautifully plated and had great eye appeal. Our first appetizer was a spicy tuna tartar with house made taro chips. The next photo shows a beef carpaccio with mandarin orange, caper berries, Dijon mustard and parmigiano cheese. It was delicate and refreshing, but also very rich in taste.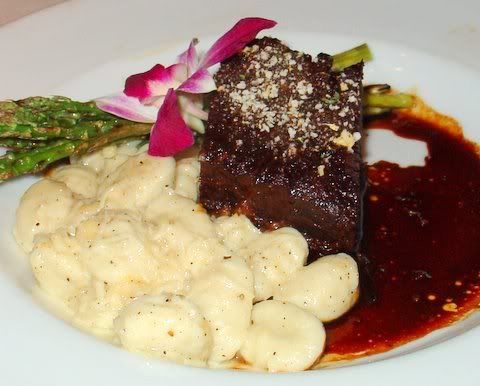 The gnocchi with Gorgonzola sauce was a classic combination that worked beautifully with the red wine braised short rib that was fork tender. For me the highlight of the meal was a side of Brie mashed potatoes that were hidden under the mound of baby carrots, string beans, and braised apricots, prunes and currants that made up the condiment for what had to be the thickest center cut pork chop I have ever seen. The potatoes were buttery with an earthiness that could only be imparted by the cheese. The brie itself was more evident in the aftertaste. The pork chop was very tender and if I had been eating beef, it would most certainly be the fillet mignon cut. Delicious, but slightly undercooked.
The meal was filling, but dessert was ordered despite that, if only to see how it was plated. Another success both aesthetically and in taste. Lemon Mascarpone cheesecake with Macadamia crust and meringue deserves a place on every menu in the country!
http://www.elementsrestaurantandbar.com/
129 East Anapamu St
Santa Barbara CA 93101
(805)884-9218