On our first visit to

Trattoria

Barberini

, we accidentally found it after trying to replace a lost passport at the American Embassy on Via

Veneto

. Losing a passport is a rather psyche rattling experience, so my nerves were frayed (especially after seeing my new passport photo taken after a sleepless night on a train from Sicily to Rome...10 more years, oh no). I needed comfort food fast and this restaurant was the first we found as we walked west, away from the embassy. All I remember from that visit was a delicious pasta with

porcini

mushrooms. We tried finding it on our next trip, but no such luck. We didn't have the name and what we remembered was walking downstairs into a small dining room; that was the physical description we had to go on. Even when we saw it again, we weren't certain. It was small indeed with four tables on the ground floor and only four more downstairs. This hardly seemed like the kind of place where you'd get a great meal. But after a quick peek downstairs I realized, this was it.
It was only lunch and I wasn't hungry, but I ordered 2 courses anyway, since I wanted to review the restaurant and share it with others; difficult with only 2 items. So my first choice was the

ceci

(garbanzo) and clam soup, the oddest sounding item on the menu and the classic Roman gnocchi. Even though his beloved Spaghetti

Carbonara

was on the menu, my dining companion ordered the Pasta

Puttanesca

. It had regular black olives instead of salt cured olives which are more pungent, and fresh tomatoes instead of sauce, but they both proved to make a nice departure from the classic recipe. The soup was good with a mild flavor of the sea that did not dominate the soup, but enhanced the flavors, much as anchovies do in many classic Italian recipes. I'll be attempting to recreate it at home.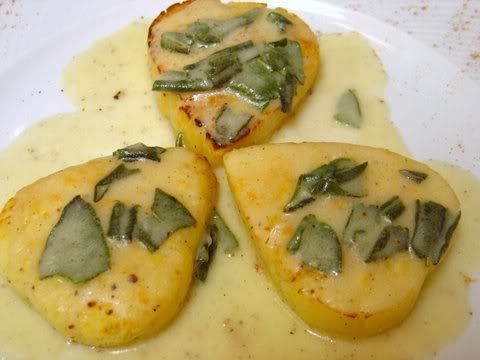 The best dish of the afternoon was the gnocchi made with semolina flour instead of potato and all purpose flour
.
I've always seen it cut into disks, so the hearts were a creative device for making the plate look more appealing. They had a

polenta

type texture with a pasta taste and the creamy sauce was very buttery and quite good. For a little hole-in-the-wall, with a y

oung

chef I would be happy to dine here again.
Via Della Purificazione 20
00187 Rome Italy
39 06 4743325