Ristorante Bacco is my favorite San Francisco Italian Restaurant. I can think of none better on the basis of consistently well prepared offerings that are seasonal and exactly what your expectations had primed you for, authentic Italian cuisine. The service is personal and efficient, a difficult balancing act for many other restaurants, but not with Bacco's warm and gracious Italian staff. The setting is intimate and walking through the velvet curtains at the door really sets up the romantic mood. It also serves to keep the room warm.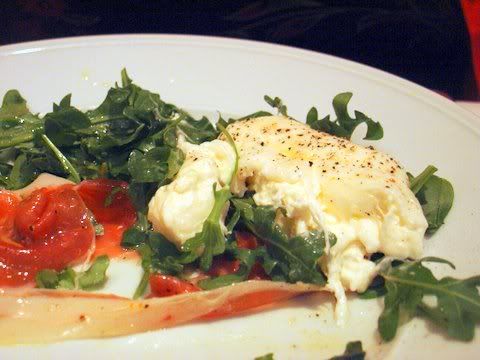 This is the kind of restaurant and type of menu that begs for more than 2 courses. I easily give in to this impulse every time I order a dinner at Bacco. My partner in crime for this meal was willing to go for four courses, if we split the pasta selection. I was a willing accomplice. We started out with a burrata salad with arugula and tomatoes. As you can see by the photo to the right, I once again failed to take the photograph until my antipasti plate was almost finished. Each cured meat was perfectly moist and not too salty.
The pasta course would have been perfect had it not been for the fact
that the
vegetable supplier delivered the wrong potato and the gnocchi was not light as a feather, the way they are normally prepared at Bacco. The consistency of perfect gnocchi at this restaurant is quite an accomplishment, no matter what the recipe. These particular gnocchi were heavy and gummy. Even the creamy truffle sauce couldn't redeem them.
Had this not been served at a restaurant the excels in making this dish, I would have said nothing. I vote with my patronage when it comes to restaurants. But when the waiter asked how every thing was, I felt compelled to speak up. He thanked me for saying something, even if it was not positive. Five minutes later the owner came by our table. I explained that I loved his restaurant and because of that I had to let him know that the dish he makes so perfectly was "off" tonight. That's when the potato story was told, a very reasonable explanation. He even comped the dish.
While my dining companion ordered the flank steak in a balsamic sauce I went for the lamb, since Bacco never fails to cook it perfectly medium rare. Simple pan juices were delicious, but that balsamic sauce looked very appealing too. Roasted potatoes and steamed broccoli worked for both plates.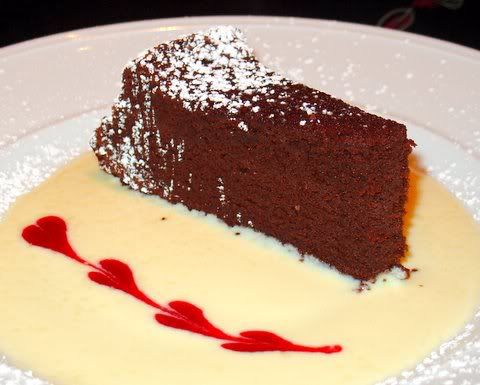 The desserts were not only beautiful but generous in size and not cloyingly sweet. The chocolate torta sat in a bath of perhaps zabaglione (sorry, I didn't taste it) and the apple tart was drizzled in caramel sauce. It was a very creative execution of an old standard. A square of puff pastry had the middle cut out and replaced with apple slices to create a cup for the vanilla ice cream; simple, yet impressive.