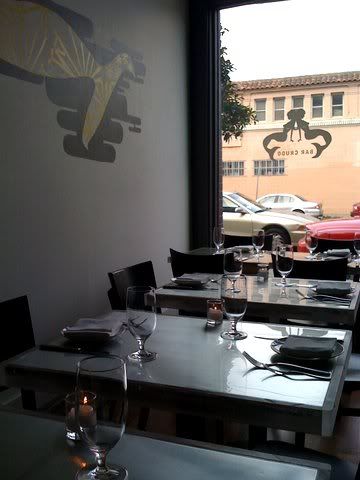 Sometimes the nicest things come in small packages and the most inventive restaurants come to small spaces. Bar

Crudo

was well established before it came to my neighborhood, but I was unfamiliar with it and was delighted to give it a try. As someone who seldom orders fish in restaurants it was a revelation to try some of Bar

Crudo's

small plates. I could go back again and again especially for the raw menu items, since sushi is a favorite of mine and Bar

Crudo

has a wonderful light hand with fish that does not involve Japanese traditions.
Their oysters for $1 during Happy Hour, 5-6:30 p.m. are another reason to revisit.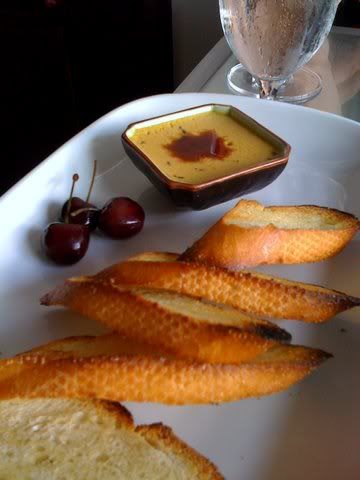 Neither of these first courses seem to be on the menu so perhaps they were specials for the day and they were special indeed. The photo to the left shows a steak tartare with 4 separate toppings both savory and rich. The photo on the right shows a fish liver pate, but the type of fish escapes me at the moment. It too was rich in taste, but for my money, the tartare was the best of the 2 choices. Still, I have to admire the use of the fish liver in what seems to be a non traditional approach, yet so familiar to the pate lovers amongst us.
The

Hamachi

Collar for $13 was not the largest piece of fish I have eaten, but it was one of the best. It was moist, mild though very flavorful and beautifully cooked. The menu states garbanzo beans, but they served

cannelini

at the time this photo was taken. I've eaten sushi for very many years and

Hamachi

has always been my favorite raw fish, it is now my new favorite cooked fish as well.
The Head-On Louisiana Devil Prawns delivered the heat they promised and were a big hit at our table, but it would have been nice to serve them with some form of starch. I kept thinking about rice, as I tried one but bread would have been fine too. Anything to sop up the sauce would have worked to enhance this dish. I hated to walk away from the table with all that luscious sauce still on the plate.
415.409.0679

Hours
Mon - Sat 5 to 11pm