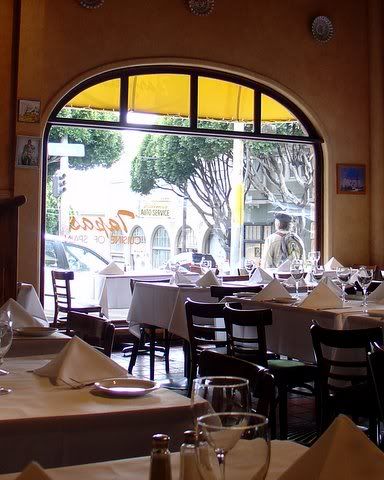 After visiting Spain for the first time and returning home, looking for a Spanish restaurant in San Francisco was going to be a priority. Zarzuela fit our criteria of traditional Iberian food perfectly, and its reputation for excellence preceded our search. For several years, a friend of ours had been encouraging us to give it a try and then agreed to meet us and help select the menu items.
After a warm greeting by our waiter, we sat down to wait for our friend and ordered a Spanish beer. The Estrella Galicia was inoffensive and wet; that made it good enough for us. Beautifully plump and heavily marinated olives were then brought to the table. Our friend arrived, so the wine for our meal was ordered. Veigadares Rias Baixas was a full bodied red, tasting decidedly better than the beer, just perfect for the meal ahead. The fried pequillo peppers were just spicy enough to make a good starter. While they hinted of heat, they didn't overwhelm the palate.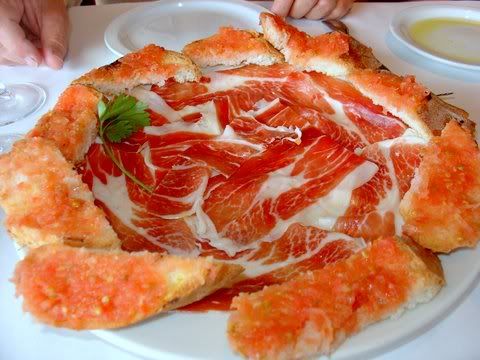 What
could be a better starter than tomato toast and Iberian "jamon"? It reminded us of the many times we had eaten these on our trip. Tomato toast is basically a Spanish bruschetta with crushed fresh tomatoes and buttery, fruit forward Spanish olive oil. Jamon or "ham", specifically Serrano ham in this instance, is like prosciutto, but the ceremonial slicing by hand elevates it to theater at many typical, Spanish, fine dining establishments. Zarzuelas' chef kept the show entirely to himself, but the jamon still tasted as good as it did in Spain.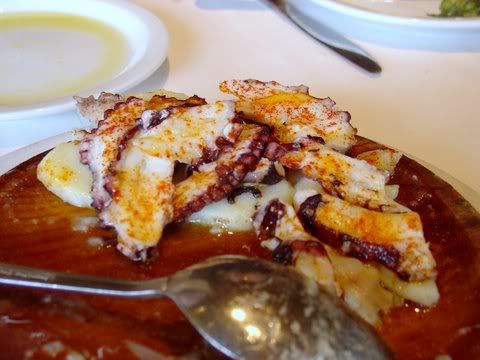 Octopus was on the menu and with a nudge from our friend we went ahead and ordered it too. It was exceptionally tender; the most tender octopus I have personally eaten, with condiments that served it well and didn't overpower its delicate taste. My first thought was that I had never eaten octopus without vinegar, whether it be in sushi, ceveche, or an Italian seafood salad. Olive oil and smoked paprika, two stalwart ingredients of the Spanish table, worked very well with this seafood.
What could be more Spanish than seafood paella? This iconic Iberian dish rose to the occasion and was actually better than any of the several we tasted on Spanish soil. The seafood, including mussels, prawns, and clams were tender while the rice was slightly al dente.
Even though our meal may have been top heavy with seafood, the Zarzuela was something I had insisted on trying. It reminded me of a Spanish version of bouillabaisse, laden with generous amounts of fish, shell fish and crustaceans swimming in a rich, saffron kissed sauce. Dessert? Not this time, but perhaps the next.
Zarzuela Menu
2000 Hyde St
San Francisco, CA 94109
(415) 346-0800