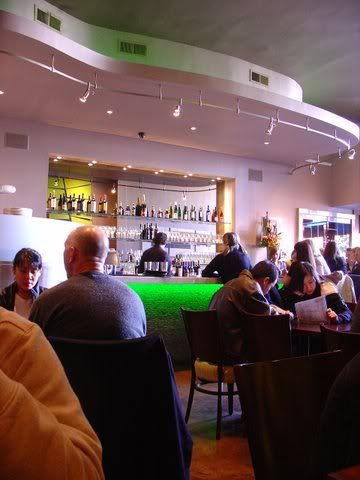 Of all the restaurants that cater to a young, urban crowd with a great bar scene, Limon is one I will gladly brave crowds to return to, for the food. Before Limon came to San Francisco, you would be hard pressed to find a Peruvian restaurant. Now you can find several, but none as sophisticated as Limon, in either decor or cuisine. The restaurant is lively and never seems to be at a loss for patrons, even early in the evening when the average restaurant only has a smattering of customers. Their loft dining area is my only complaint, as it has a claustrophobic feel with a lower ceiling height and it lacks good lighting. On a brighter note, Limon's owners are very hands on, making sure everyone is having attentive dining service. I have never before seen a patron's napkin being folded, in his absence from the table, anywhere but at an expensive, formal restaurant. One must feel appreciated when this happens in a casual dining room.
Ceviche seems to be a popular choice for a starter, since it is difficult to find a table that does not have an order of it sitting front and center, as you walk through the restaurant. Not surprising since we have such fine seafood available in the Bay Area, but most probably because the idea of fish chemically "cooked" when mixed with an acid, such as lime or lemon, is intriguing, especially for the uninitiated. Limon is adept at putting flavors together, like using a mango sauce with the ceviche or adding Peruvian corn on the dish to impart some sweetness to each bite. Of the three I have tried thus far, the larger serving with three different fish, each with a different sauce is outstanding.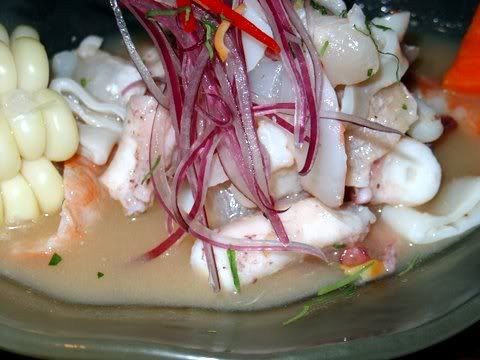 Smaller portions are available at lunch as well as during dinner service. This photo on the left shows the ceviche with fish, shrimp and squid, bathed in lime juice and topped with red onion. The Peruvian corn has larger kernels than we commonly see, but the flavor is sweet and it goes well with the ceviche.
This photo features the shrimp and fish ceviche, again with the Peruvian corn. The portions seem the same on these small plates at both lunch and dinner. If Limon served the corn as a side dish I would certainly order it, but I suspect is is difficult to come by as it seems to be reserved for the ceviche.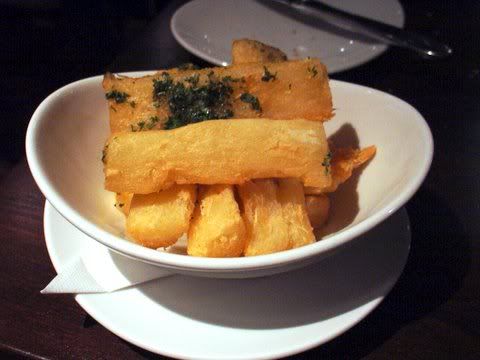 What they do serve as a side dish is the fried yucca. Potatoes, move over, there's a new kid on the block. The yucca root is still starchy, but seems less dense than potatoes, a nice difference, unless it picks up more oil while being fried. They make a nice side for the meat course.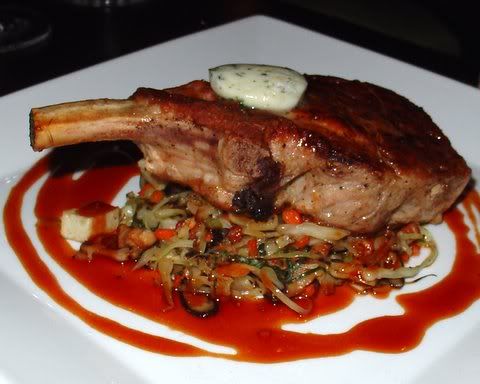 The grilled pork chop is tender and juicy, and cooked to a pale pink color. Not undercooked, but cooked perfectly for flavor. It tops a bed of shredded and sauteed cabbage, carrots, onions and zucchini. What a wonderful dish for Fall or Winter.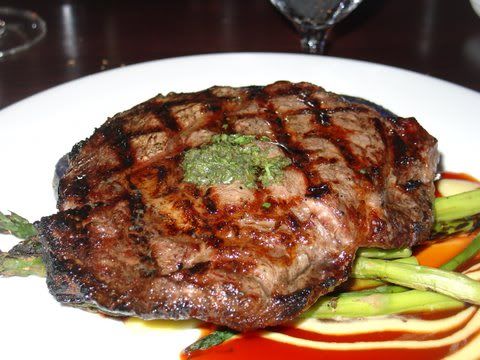 With such skilled grilling being done at Limon, you cannot go wrong in ordering the Rib Eye steak, or any other grilled meat they may put on the menu. The portions are generous and could easily satisfy two people if they wanted to split the order. This was again cooked perfectly to order, medium rare.
Chicharron de Pollo is another winner in the small plate division. The chicken is marinated in a spicy sauce with Aji Amarillo peppers, then deep fried to a crispy texture. I wish I could identify the flavors in the Salsa Criolla that accompanied it. For now, suffice it to say it was good; we cleaned the plate.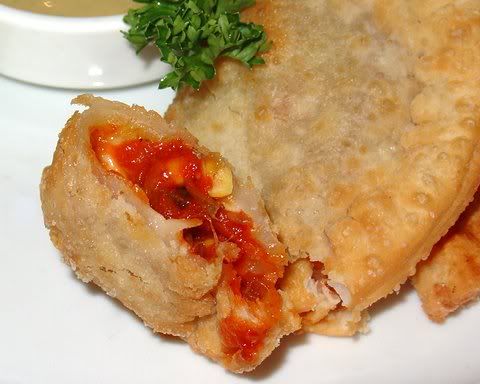 We ordered vegetable empanadas from the hot selection on the lunch menu. For people who just had come back from a vacation to South America, we were slightly jaded, but this dish passed the test with flying colors. The empanadas were flaky, spicy, flavorful, and compared favorably to those we had eaten on our vacation.
Pan Seared duck breast was just as well prepared as the meats. It came as a surprise that the skin was not scored, so perhaps the fat was not rendered enough for someone wanting to eat the skin. Mine remained on the plate, but I generally discard it anyway. The Brussel sprouts were nicely sauteed, but not memorable, although the delicious bean croquette was. It was mixed with cumin and I believe a little rice. The fried plantain made a nice architectural element to the plating and I enjoyed eating it too.
Prices for all the food generally ranges from $6 to $25.
http://www.limon-sf.com/
524 Valencia Street
San Francisco, CA 94110
(415) 252-0918
Open Mon-Wed 12pm-10:30pm; Thu 12pm-11:30pm;
Fri-Sat 12pm-11pm; Sun 12pm-10pm