The concept of a restaurant that offers movie watching to its patrons is quirky and fun, yet while the industrialized space is well laid out into separate dining rooms, something seems to be missing at Foreign Cinema. Perhaps going for brunch was the problem, as the menu seemed ill defined. The style of food served was thematically all over the place; it seemed to lack direction, but then, I'm not a big fan of brunch and would also have great difficulty in putting together a cohesive menu.
The iced tea ordered by my friend came in a unique carafe that allowed one to add more water to the tea. As it sat there getting stronger in taste, because the teabag was still present, you could decide to dilute it with more ice, water, or both. That was inspired thinking and must have come from someone very knowledgeable about drink service. Why would a restaurant wish to make their own rendition of a commercially inspired, unwholesome, junk food? The answer may be, because they can. My friend really liked her selection of the "Pop Tart" (the restaurant is known for them), but having avoided them after one bite, for lo these many years, I found the idea confusing; sure the taste could be improved, it had to be, but why bother? One would think this would be a "hard sell" menu item, but maybe the novelty of it was the idea.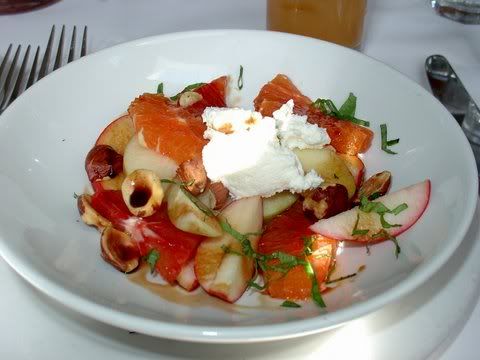 My own selection of a fruit salad with fresh ricotta cheese, hazelnuts and balsamic with a chiffonade of mint was much more appealing to me, obviously. Besides appearing to be a healthy option, it had nice eye appeal with all the colorful ingredients, while being both flavorful, and refreshing. It also went well with my mango juice.
I have to say, the ceviche was good enough to encourage me to give Foreign Cinema another try. My snapper was outstanding. The citrus provided plenty of acid, the olive oil added depth, and the wasabi "caviar" provided a punch of spice that elevated this simple dish. It also offered a wonderful textural contrast as I bit down on the fish eggs. However, the garnish of Swiss chard micro greens was the real "jewel in the crown", since their mild flavor was still undeniably like chard, adding an unexpected earthiness to this wonderful fish dish.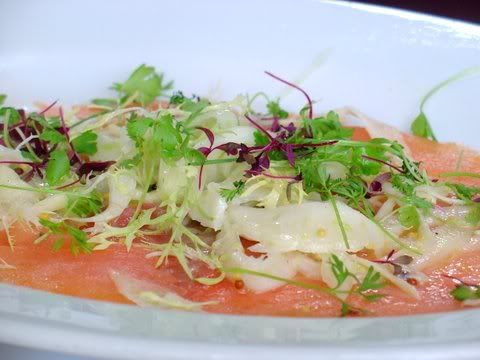 The smoked salmon carpaccio looked just as delightful and my friend assured me that it was delicious as well. The addition of shaved fennel seemed like a fine idea, creating a smoky sweetness to the dish. It was balanced with a small amount of bitter frisee and cilantro, and finished off with beet micro greens. Yes, this restaurant demands a return visit because it has elevated my experience of a fish course and created a delightful twist on the expression "dinner and a movie". Popcorn, move over; your reign is coming to an end.
2534 Mission St
San Francisco CA
(415) 648-7600