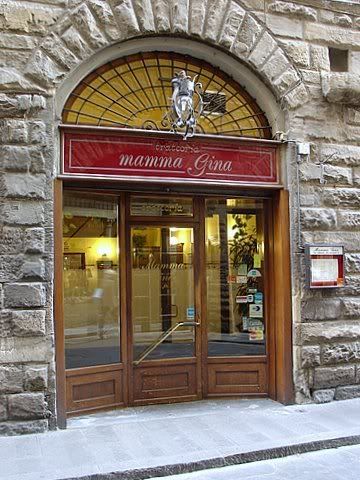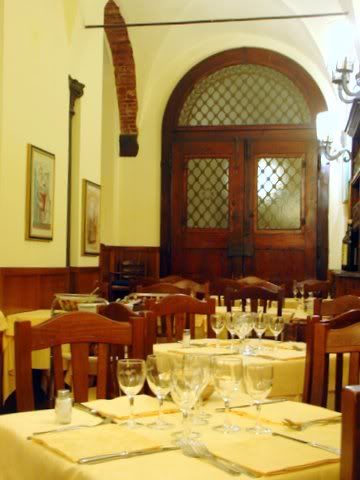 The first time Mamma Gina came under my radar was a night when Cinghiale Bianco was closed. It was an accidental dining experience that turned out to be a good one. The second time was not by accident but by design, because I knew they had Pappa al Pomodoro, the classic Tuscan soup, on the menu. Having wanted to give it a try for a long time, lunch seemed a good opportunity for me to take the plunge and order it as a light meal. On the last occasion a table was reserved with the intentional purpose of getting reacquainted with this decent restaurant with its broad selection of Tuscan fare.
Give an Italian the most meager of ingredients and he'll come up with something tasty and filling. Pappa al Pomodoro* is a case in point. Made primarily of day old bread, tomatoes, olive oil, garlic, basil, and red pepper flakes, this gem of a soup is bright in color as well as in flavor. The acid in the tomatoes is a nice contrast to the creaminess of the bread and olive oil. So far, I like Mamma Gina's recipe the best, but I'll continue my research because this soup is worth reordering time and again.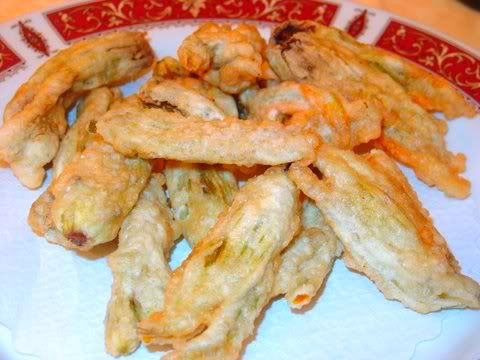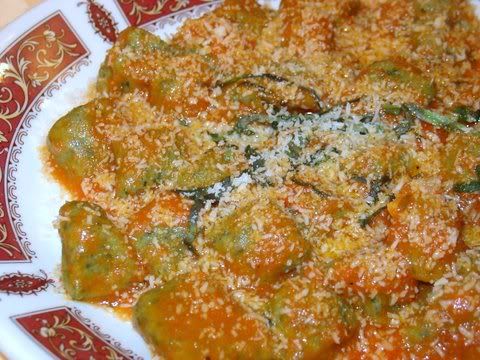 How can one resist a fried zucchini flower? So far there has been no answer for this question and until one comes to my attention, this will remain my antipasti of choice. Mamma Gina produces a light and delicate version, well worth a try. One of the best ways to determine an authentic Italian restaurant is to discover how well the gnocchi are made. Try the spinach gnocchi pictured above and you will know how to judge them in the future. Mamma knows how to make gnocchi, light, flavorful and never gummy or pasty in texture. The basil included in this recipe added a light sweetness that worked beautifully with the tomato sauce.
Never having seen fried chicken on an Italian menu before, it was a delight to try it for the first time. Light and crisp, it was also the least greasy chicken I have ever tasted. The accompanying fried zucchini was also delicious, but a little overkill with the zucchini blossoms as our first course, so I would have preferred an unfried vegetable. Still, this kitchen staff really knows how to fry foods.
The best has been saved for last, and it was not dessert.
Cannelloni Mamma Gina is outrageously flavorful and the perfect food for a cold evening. It warms your heart as well as your stomach and is probably the best cannelloni on the planet. Meat filled, tasting mostly like veal, it comes to the table swaddled in a delicate crepe, and bathed in an equally delicate bechamel. Our dining companion was ready to drive from his home in San Diego to Palm Desert to order it again, but unfortunately the sister restaurant does not have the same menu. That is truly a pity.
http://www.mammagina.it/
*
Pappa al Pomodoro does not appear on the English version of the menu, but they do serve it there.
Borgo S.Jacopo, 37/r Tel.055.239.60.09
Florence Italy
Fax 055.213.908
Closed on Sunday

info@mammagina.it