Proximity to our hotel was the only reason we selected

Perilli

as a restaurant to try in Rome, at least the first time. We now make a point to dine there whenever we are in town. Situated in the

Testaccio

section of Rome, it seems off the beaten path, and perhaps because of that, it is still an authentic

trattoria

serving classic Roman "

cucina povera

" specialties.

Testaccio

, at one time, was the epicenter of the butchering trade in Rome and workers could expect meager earnings, but were also sent home with the parts of the cattle that were considered "the fifth quarter", the offal and unpopular cuts of meat such as the ox tail. Necessity was certainly the mother of invention in difficult economic circumstances, and the Italians of Rome turned straw into gold. When it came to using the fifth quarter meats, Roman ingenuity turned giveaway organs into classic Roman cuisine.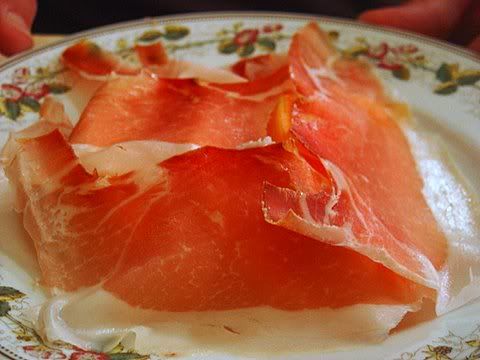 Some classic foods in Rome are not meat based.

Perilli

starts off your meal with the classic Roman 5 pointed rosetta roll that typically is hollow inside. I love this little roll and am happy to see it being emulated by Grace Baking here in Northern California, although theirs is not hollow. For starters we ordered a generous plate of prosciutto that paired well with the roll.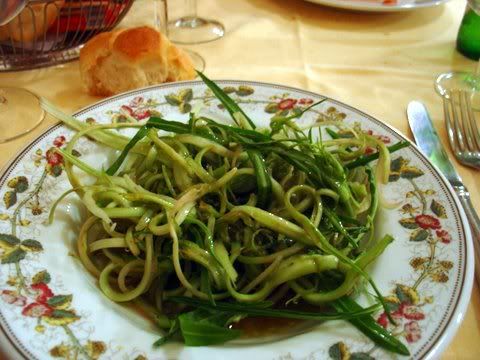 I've always wanted to try

puntarella

, the escarole type green served very commonly in Rome with olive oil, anchovy and a squeeze of lemon. It was very refreshing with its slightly bitter taste. Even so, my favorite vegetable at

Perilli's

is the

Carciofi

Romana

, a tender artichoke drizzled in olive oil and lemon. I panicked when I didn't initially see it on the menu, but it was eventually found in the

contorni

, not antipasti, section of the menu.
The next choice required nerves of steel and a strong determination to order. It was a rigatoni in tomato sauce, but the offal was quite unique and begged to be tried. Everyone at our table turned up their noses, but 2 out of 3 of them gave it a try and said they liked it. What was it? Pajata, a newborn lamb intestine that still held sheep's milk. It was very narrow as you can see by the closeup photo to the right (sitting diagonally in the center) and tasted like ricotta cheese. Delicious, but once was enough and I will most likely go back to ordering Coda alla

Vaccinara

, another rigatoni pasta dish smothered in an ox tail and tomato sauce.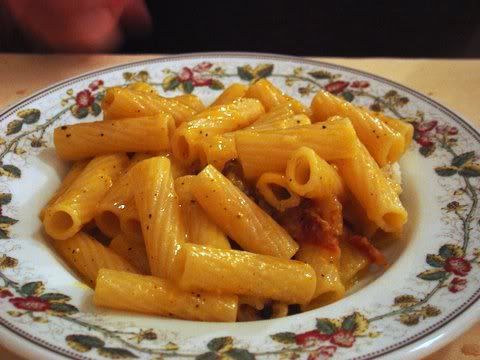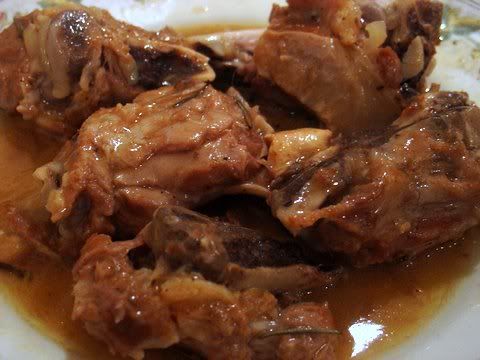 We cannot go to Rome without ordering

Carbonara

and

Perilli

has an especially rich tasting one made with rigatoni instead of spaghetti. The meat course for this trip was braised lamb in red wine vinegar. The contrast of the vinegar with the rich meat was very good.