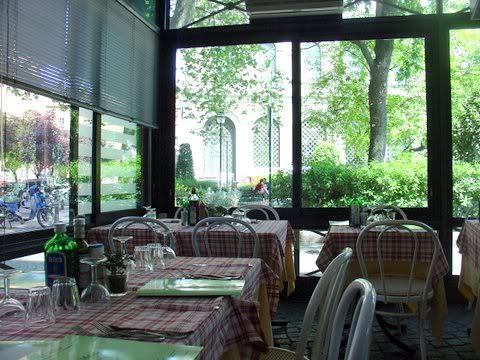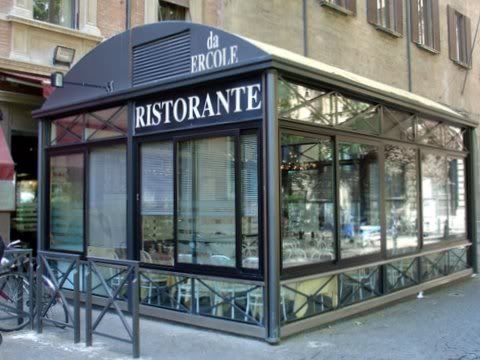 Bologna has been on our itinerary for a number of years, not only because it is a wonderful city, but because we have friends living there. On our very first trip, we stumbled across

Da

Ercole

and on our most recent trip we found it once again late in the afternoon. We became the last patrons seated for lunch after promising not to order a piatti

secondo

(they can take more time to prepare). It may seem that we were being rushed, very uncommon in Italian restaurants, but in fact we were being accommodated, since several employees had already left the premises.
The

Bolognese

are so enviable in their culinary heritage, but like the

Toscani

, they do not make great bread. Very dry rolls of assorted sizes and shapes are routinely offered, but you may

prefer

to limit yourself to the

grissini

(

bread sticks

). The menu is broad (and readable if you click to enlarge), and the food has a fresh, homemade quality, although it is by no means rustic.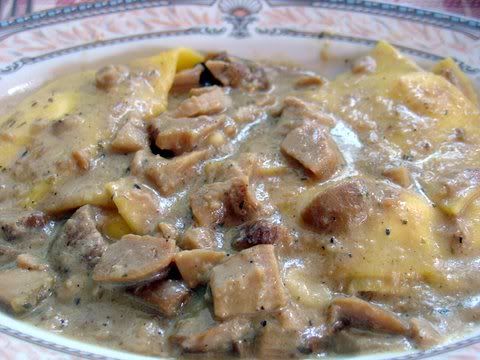 This restaurant

excels

in the pasta offerings and I look forward to a day when each one has been tasted. During our first meal we ordered the Tagliatelle with

Bolognese

Sauce and enjoyed the freshly made pasta with the rich meat sauce. It was a nice experience to be eating that classic in the city where it originated. This time we ordered p

appardelle

with fresh

porcini

. Another

Emilian

classic, with the heady fragrance of

porcini

infused within the butter sauce. A light dusting of

parmigiano

added just the right touch. The ricotta ravioli in

porcini

and truffle sauce was so delicious it didn't need the cheese to enhance the flavors, they stood alone. We slowed down to savor each morsel, even knowing that we had limited time.
Our waitress was so gracious, she offered to stay longer so we could order dessert. So, order it we did. It was hot that afternoon so we decided to order fruit. The cantalope in port sounded refreshing, unfortunately the two flavors did not work well for me. Still it was nice to linger there looking out at the park across from the small outdoor pavillion where we were dining. Next time we are going to sit in the restaurant itself.
Update:
As of May 2011 Da Ercole was no longer in business. I had hoped it was just temporary, but the outside glassed in dining area had been completely removed and there was no longer a sign on the building.
12-3pm, 7:30p-11:30p Tu-Su