I
t is very seldom when a menu becomes so engrossing that I completely forget to take a photo if the restaurant, but that was the case with Gialina. All I knew before walking through the door was that it was Italian and the pizze were some of the best in town. What really caught my attention was that although there were salads and other starters, there seemed to be no pasta course at all and very little in the way of a meat course. A roasted chicken was about all they had to offer.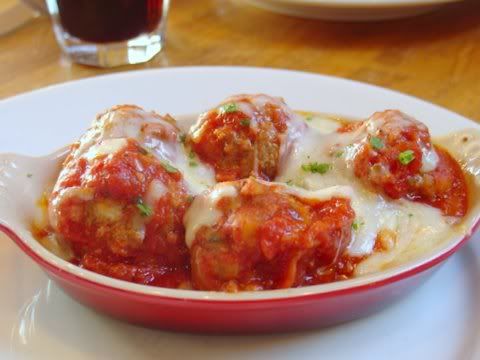 After reading through all the pizza descriptions, we decided to order pizza and a few starters. Since there was no meat course per se, we got our meat fix with an appetizer of meatballs in tomato sauce. Definitely not a commercial product, but one that was house made and very competently so. Flavor packed and light in texture, they passed my personal test.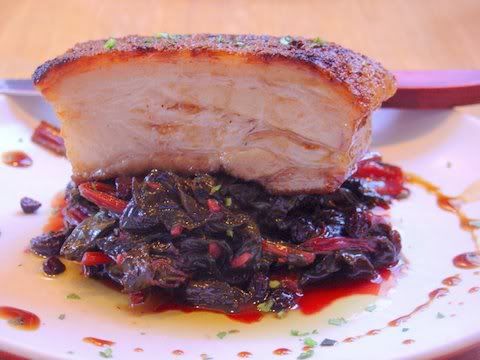 Th
e Pork Belly with Braised Swiss Chard just begged to be tasted and I was happy to oblige, but I almost had heart palpitations just looking at the amount of fat on my plate. This could have gone terribly wrong if the pork was served after cooling too long, but that wasn't the case. The pork belly was a minute short of being too hot and the mouth feel was incredibly silky.
Burrata is an Italian cheese made from water buffalo milk, very high in butterfat and very milky and creamy in taste. But unlike mozzarella, another water buffalo milk based cheese, Burrata is not dense, but liquefied. It's difficult to find a good imported example, because the cheese solidifies within three days of being made. Luckily Gialina used an American made Burrata on this salad and the texture was very good. The combination of farro, radicchio and fresh peas made this a perfect spring salad.
Combining beets and goat cheese is nothing new, but some salads are better than others and it might just be an added bit of imagination that makes them so. The difference between the golden and red beets made for a heightened contrast in color, and even though it didn't change the taste, it upped the ante in visual appeal. Additionally, the pistachios added to the textural appeal of this salad. The spiciness of the arugula added another layer of complexity to an already satisfying rendition of this classic salad.
We came for the pizza. Gialina has elevated pizza to an art form. The crust is crisp on the outside and chewy, but light on the inside, with a non soggy bottom. The combinations of ingredients are inspired. It would be difficult to go back to a standard sausage and mushroom pizza after tasting one of these. Our first selection was of Yukon Gold potatoes, bacon, Gorgonzola, red onion, and thyme. We're looking forward to eating this one again.
The next pizza was called the Atomica; we were not prepared to leave without ordering two pizze. The combination of mushroom, tomato sauce, basil leaves and cheese is classic, but the addition of red pepper and red onion turned up the heat and made this an above average interpretation. The best part was the light hand with the cheese, that allowed all the other flavors to shine. An American pizza has always been overloaded with cheese compared to an Italian pizza.
After all that food, the choice of fresh fruit for dessert was a good one. Simple and refreshing, the strawberries made a nice ending to this particular meal.
2842 Diamond Street
San Francisco, CA 94131
415.239.8500