Like a good Western churned out by the Hollywood of old, Casa Orinda is a blast from the past. Wagon wheels and steer horns take over this suburban outpost and set the mood for comfort foods. This is a "meat and potatoes" restaurant if ever I saw one, and it survives as a favorite dining spot for several generations of Californians.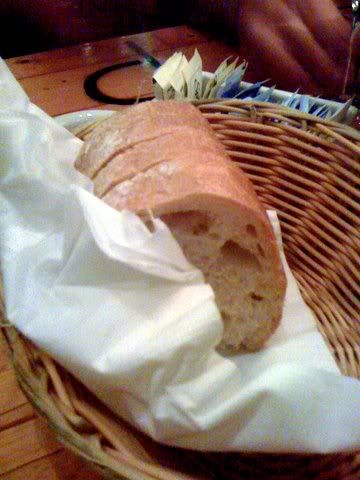 Bread, good sourdough, fit for the urban cowboy in Orinda. The beet salad with spinach and goat cheese is, I suspect, the restaurant's attempt at trying to step a foot into the 21st century. It was decent, but there are better around in many different venues. It really is comfort food, when it tastes like a home made replication of a restaurant dish.
Pork belly was a big surprise to see on the classic menu. It appeared to be another attempt at bringing the restaurant a dish that is more in keeping with what is current. This was a very good effort. Seared pork belly was served over a white polenta and fava in a slightly acidic sauce. It really worked well. Now, where did they get such huge fava and how did they make them so tender? I'd go back for more.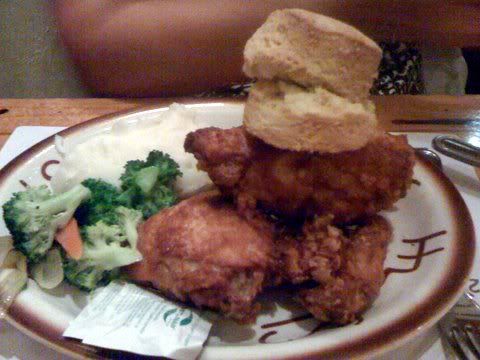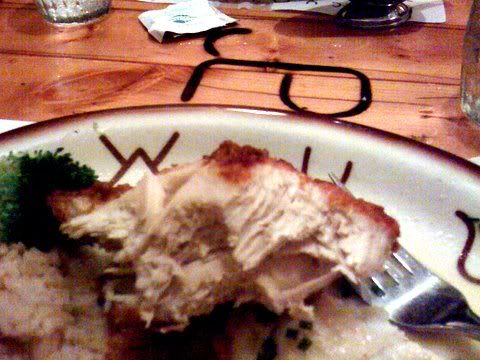 Please excuse the photos , taken with an iphone. I wasn't planning on reviewing this restaurant, so I failed to bring my camera. The chicken is what changed my mind. Casa Orinda is known for its fried chicken and biscuits and deservedly so, they were very good. The chicken was crispy, flavorful (a hard act for chicken), and very tender with juices flowing the minute you cut into it. I can't say much for steamed vegetables that accompany the entrees, but then I didn't expect much. The biscuits, served with butter and honey made dessert redundant. This was clearly the best meal at our table. Go for the chicken if you're in the area.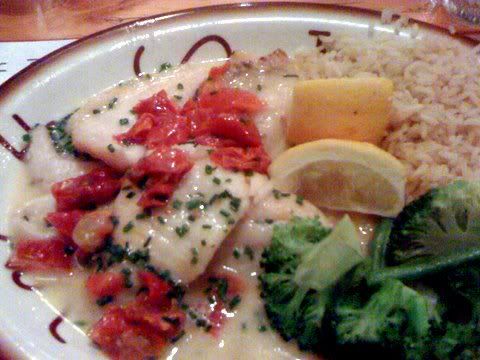 Even though the wild west wasn't known for fish fries, trout was occasionally available, and so too are several fish options at Casa Orinda. This sole was nicely seasoned and plentiful. I learned a good lesson at this meal. You shouldn't look an old war horse of a restaurant in the mouth. There is always a good reason for a restaurant to continue doing business for many years, even a generation or two. Sometimes you just have to dig deep to discover it. The gold at Casa Orinda is in the chicken. Casa Orinda is also an Italian American restaurant and that appeals to many people.
20 Bryant Way
Orinda CA 94563
(925) 254-2981