Bacon waffles bring back wonderful memories of childhood for me. Never a child of the South nor even a visitor, my Italian grandmother made these for me. When the opportunity arose I made them for my niece, while telling her stories about her great grandmother. When I read that they were on the Stack's menu I had to try them. They were very good, but the bacon was a bit too crisp for my preference. After an anointing of butter and a baptism of maple syrup they did take me to the promised land of a hearty, delicious breakfast.
They make a decent sandwich too. This ham and turkey club sandwich was proof of that. Since it was almost time for lunch when I ordered the waffle, my "usual suspect" of a dining companion was less nostalgic and ordered something more time appropriate, the aforementioned club sandwich.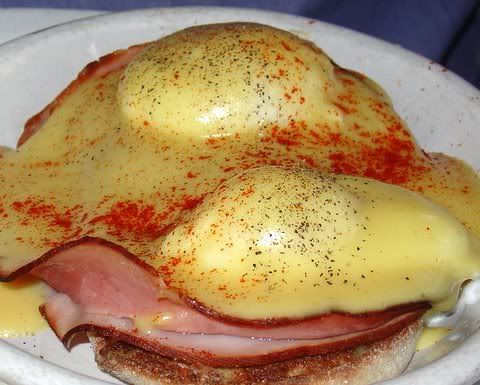 On our second visit we both ordered eggs, that came with a small portion of hash browns and a small cup of fruit. The egg dishes themselves were very large portions and more than enough to fill a person. The Eggs Benedict were just as expected, but the Crab Benedict was the real stand out with a generous amount of crab and avocado slices. We had swift courteous service and judging by the line of people waiting to get in this is a very popular restaurant. Not being great breakfast or "brunch" fans we will probably not be returning soon, but someone who does prefer those meals would like Stack's. It's an upscale diner of the 21st century providing old fashioned comfort food.
501 Hayes Street
San Francisco, CA 94102
(415) 241-9011