Rather than a Bistro,

Gambrinus

is more properly a sports bar with food. The selection of Eastern European beers alone, must qualify it as a bar, and sports events dominate the televisions that are always on, while the sports fans dominate the sound levels. This is no place for a quiet, let alone romantic dinner. Don't let any of this deter you from trying it. Yes, it has a sports bar atmosphere, but this is not to say the food is secondary or an afterthought. Consider it a small hurdle one must cross for some very good Eastern European dining.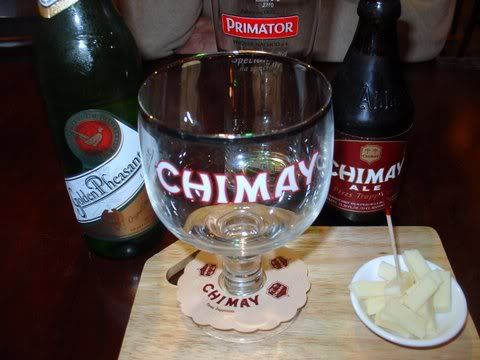 Chimay

is my beer of choice, even though it's an ale. It has no bitter aftertaste and it has a slight sweetness to it that I thoroughly enjoy. Even though Belgium is a Western European country, it was a pleasure to find it on the menu. We also tried Golden Pheasant on this particular evening and that was a good choice also. Anyone who likes a wide selection of beers, lagers and ales will be very happy to see what's on offer. The complimentary smoked cheese had a nice taste and went well with the

Chimay

. Next time I'll ask what it's called and find out the country of origin. Oh yes, I expect to make many return visits in the future.
Having grown up with the son of a Russian neighbor, my partner in crime is very fond of Russian food, so the

Pelmeni

immediately caught his eye. It's a lovely small meat filled dumpling that is commonly cooked in a flavorful broth and topped with sour cream. This one looks as though it may also have a butter with dill sauce on it. It was delicious, but I don't recall tasting the butter and dill. I'll have to give it another try. The

Pelmeni

is hand made for the restaurant but not by the restaurant. That's okay, they have plenty of other items to busy themselves with. It may be necessary for me to add to this review to describe and photograph some of them.
Hungarian Goulash was my second choice as the Pineapple Shrimp took considerably longer to prepare and we didn't have enough patience to sit through all the hoopla surrounding the game that was on television that night. This preparation was better than any I had tried in Hungary, quite an accomplishment. It was bursting with the flavor of a sweet paprika. The fried potatoes with dill were good when dipped in the sauce, but stood up on their own as well. I welcomed the fresh salad that came with them and look forward to trying an

entree

salad another time.