Osteria

Del

Circo

is not a three ring circus, but a well choreographed theatrical piece that stimulates the senses almost as much as the menu stimulates the appetite. Waiters waltz through the circular room taking orders, serving meals, balancing trays like the Flying

Wallendas

balancing themselves on the high wire. The next act follows seamlessly with the busboys juggling dishes, and with slight of hand, filling your never ending glass of water. They were so unobtrusive, I didn't even see them several times, yet my glass was continuously full. The main attraction is most certainly the food, but the decor was smart and the dishes as playful as the decor. The one elephant in the room was

Sirio

Maccioni

, the family patriarch, the man whose inspiration became one of the most well known and beloved restaurants in America, Le Cirque. He was sitting quietly in the corner, dining alone,
but was too big a presence to possibly ignore. When I first found the cookbook authored by his wife,

Egi

Maccioni

, The

Maccioni

Family Cookbook, every single recipe looked authentic and classically Italian, so being able to try several of them at one sitting was an experience I was looking forward to having. I may have only gone to the circus once, but I look forward to going back to

Osteria

Del

Circo

for a sublime meal each time I visit New York City. It's better than the circus!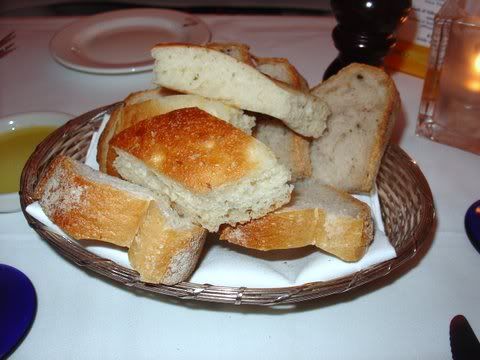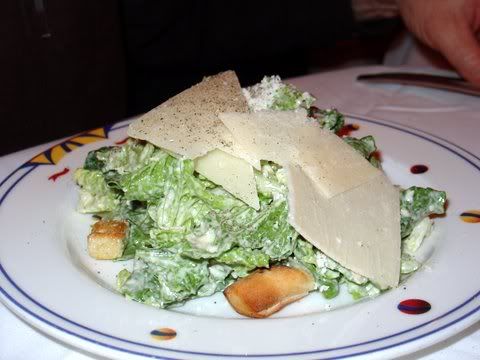 Bread appeared at the table in two varieties, a rustic Italian and a

foccacia

, both quite good when dipped in olive oil. We were originally served olive oil with balsamic, but they were happy to exchange that for the pure Tuscan olive oil. Cesar Salad at

Circo

was excellent with a very generous amount of shaved

Parmigiano

cheese layered on top.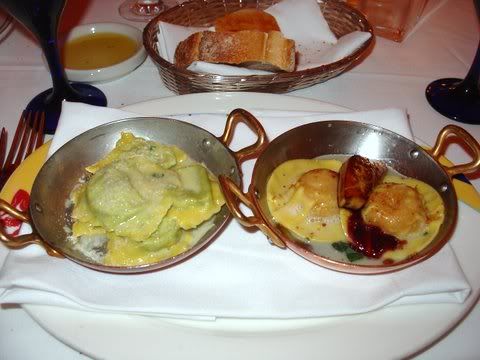 Of all the recipes in their cookbook, I was most interested in trying the ricotta and spinach ravioli for a

primi

piatti

, but since they also had a double pasta option the squash ravioli with

foie

gras

became irresistible. It was pure luck that the soups I had been tempted by in the book were not on the menu, thereby allowing total justification for ordering two pasta courses.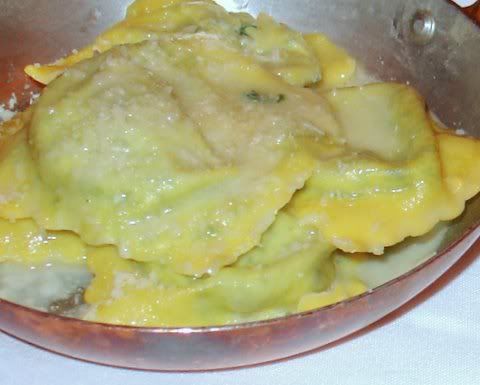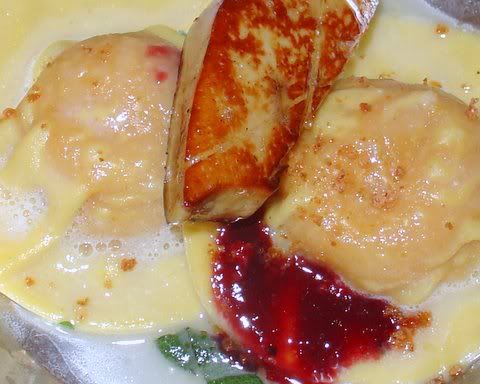 Spinach and ricotta ravioli seem a good test for an Italian restaurant, since they are on so many menus throughout the country, indeed the world. These were exceptional if not the best I have ever tasted, light, fluffy not dense, yet creamy, and expertly hand made. The sage butter sauce was not overdone nor was it over cooked with burned or browned milk solids. It was restrained and refined as one would imagine

Egi's

recipes for Le Cirque must have been.
The squash ravioli with

foie

gras

and a

Recioto

(a sweet Italian red wine from the

Veneto

) wine reduction was caressed by the same sauce and was indescribably delicious and rich without being heavy. I savored them as long as was humanly possible, but that wasn't long enough. I wanted more.
Another good test to determine the quality and authenticity of an Italian restaurant is to try their

Bolognese

sauce. Luckily my partner in crime is not so likely to be adventurous at a new restaurant and orders the more familiar menu items. He selects Spaghetti

Bolognese

frequently, always allowing me a taste. This particular sauce was very complex and flavorful with a very subtle tomato taste that would indicate long simmering.

Pappardelle

Bolognese

was a big hit.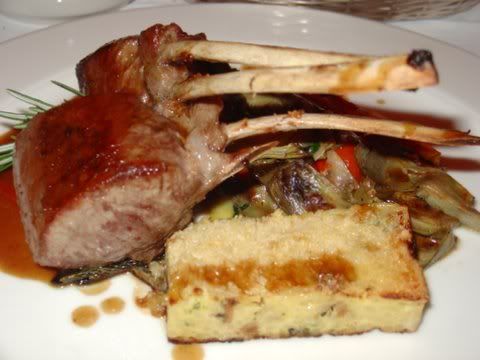 Rack of lamb is not on the regular menu, so I must assume it was a special for the evening, or I need reading glasses. It was cooked to a perfect medium rare and came with braised Swiss Chard and a delightful

frittata

of Spaghetti

Carbonara

. Since

Carbonara

is a favorite at our house I was happy to try it; now I know what to do with

Carbonara

leftovers, on the rare occasion when we have them.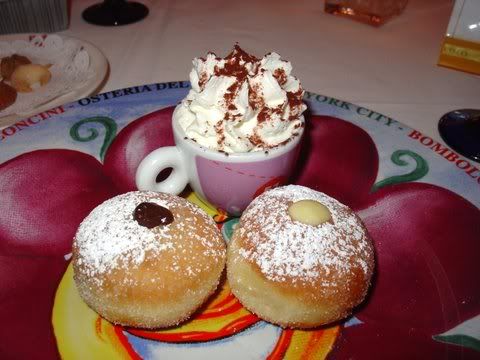 Although there were Tuscan options on the menu, the Sicilian

Bomboloncini

sounded too good to pass on, so it became my choice for dessert. Options of fillings included jam, chocolate or vanilla French pastry creme and it came with a creamy cappuccino mousse that you see in the espresso cup on the plate. Much as I tried, I couldn't help but smile back at the plate they were served on.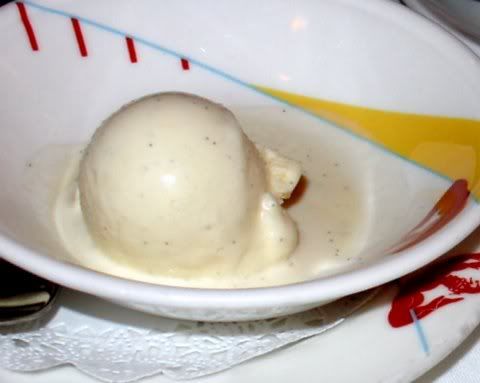 Too bad I didn't bite into both filled doughnuts, so you could see the rich chocolate filling in the second pastry. You'll have to take my word on the aromatic coffee flavored mousse; it was better than a cappuccino, but just as rich in taste. Did we order a single scoop of

gelato

? I don't think so, but out it came on another very playful and architectural set of dishes, a bowl and plate.
Biscotti

were excellent and another gift from the restaurant staff, or perhaps the

Maitre

d' Mauro

Maccioni

. We had a chance to talk to him for a bit as he was going from table to table, much as I suspect his father did at Le Cirque, building up rapport with his customers and developing relationships with regular clients. Not being one to hold anything back, especially a compliment, I told him that although I own every single Lidia

Bastianich

cookbook, and value each and every one of them, the first Italian cookbook I usually recommend is the

Maccioni

Family Cookbook because the recipes look so traditional and delicious. Although I enjoyed the comp

gelato

,

biscotti

and dessert wine, being able to eat at

Osteria

Del

Circo

was a reward in itself. What a memorable meal, like a circus parade dancing across one's palate!