When we first visited Metro Cafe it was a delightful French brasserie in the restaurant space of the Metro Hotel in San Francisco's North Panhandle neighborhood. It was usually crowded and had a strictly French menu during the evenings with a French staff, but a good all American brunch on weekends. When it closed we regretted not having gone there more often. The restaurant that followed was not to our liking so we remained at a distance, until one evening when we took a look at the menu again. Menu items certainly looked French.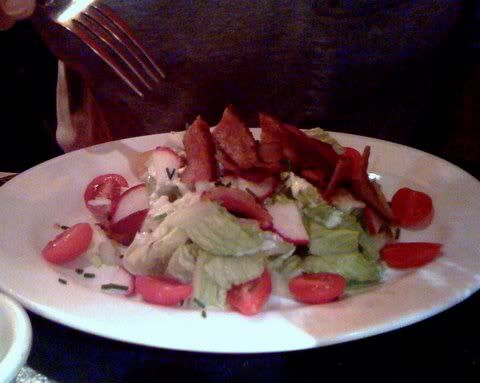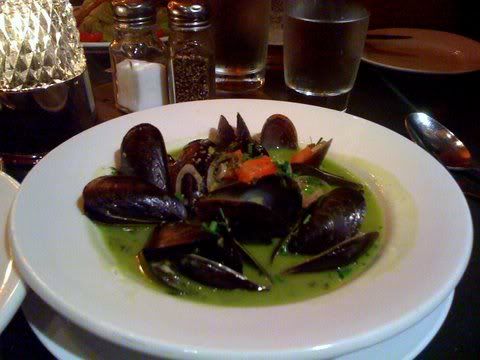 Cell phone cameras leave much to be desired, but I was happy to have the use of one rather than none at all. We started with the Romaine and shaved radish salad topped with lardons and dressed with bleu cheese, then dipped into the mussels. They had an Asian note to them, which proved a nice surprise. This dish has changed on the menu, so I'm looking forward to the next interpretation of mussels at the Metro.

The center cut pork chop was beautifully cooked with a pale pink center; very juicy and flavorful. No complaints about the sauteed green beans or fluffy mashed potatoes. This was not the French menu we knew, but a transformed version with little twists and turns that made it a more playful, less serious gastronomy. Having stopped in was becoming more and more a delight for us.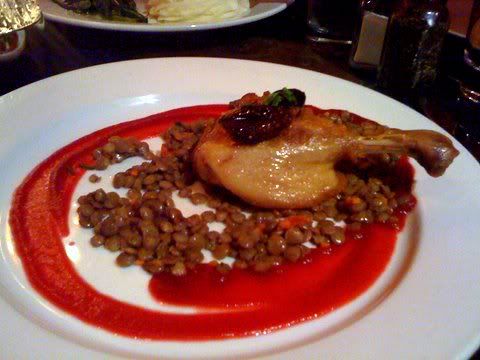 Duck confit is usually served in a cassolet or on green lentils in classic French cuisine, but this was served on brown lentils, making it seem slightly irreverent in its imitation of an iconic French dish. Be that as it may, the raspberry sauce has to also be considered a truly French application to any dish, but mixing these elements netted the chef an updated classic, that I would certainly try again.
The chocolate mousse was extraordinary in size and that made it a bit over the top. This is one dessert that most definitely should be shared. The warm apple Tarte Tatin was my selection and the only disappointment of the evening. The crust was almost paper thin on the bottom, and the apples had turned a very unappetising shade of brown. The top was practically charcoal grey from oxidation. It looked worse than it tasted, but I could not take more than one bite.
Update:

the Metro has been replaced by Ragazza, a consistently excellent Italian restaurant specializing in pizze and roasted meats with some pasta and antipasti.
311 Divisadero Street at Page
Dinner : Tuesday-Sunday 5:30-10:00 PM
Weekend Brunch:Saturday & Sunday 9:30AM-2:30PM